Since you continuously need a great way to engage your audience and send traffic to your website, Internet Marketing tools are designed to help you improve your online marketing strategies  so that you can achieve your goals from awareness to engagement to driving new business. Check out these 21 Free Internet Marketing Tools you should be using in 2018 if you are doing any kind of Online Marketing for your business.
1. Google Keyword Planner
https://adwords.google.com/KeywordPlanner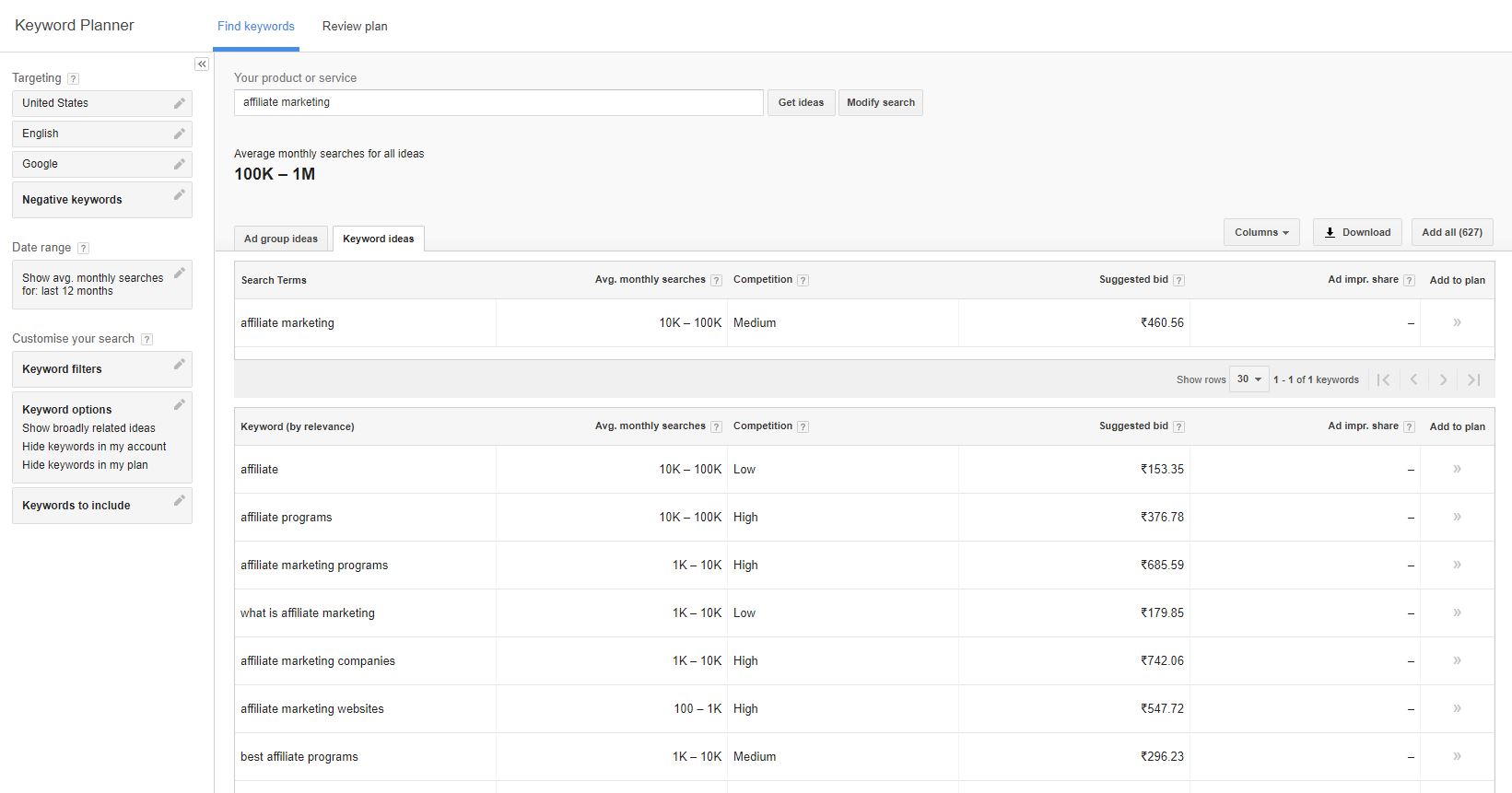 Google Adwords' Keyword Planner tool is a product from Google Adwords that provides data around the search queries that happen in Google and other resources for planning a Google Adwords specific advertising campaign. The Keyword Planner is a more focused version of the Google Keyword Tool and AdWords Traffic Estimator tool, and the focus is on doing one thing only: to make it easier for advertisers to get through the process of creating new ad groups and ad campaigns, which is the key to getting your PPC accounts off to a good start.
2. Facebook Audience Insights
https://www.facebook.com/business/news/audience-insights
Facebook Audience Insights lets you learn more about the people that matter to your business. That's the thinking behind Facebook Audience Insights, a tool designed to help marketers learn more about their target audiences, including aggregate information about geography, demographics, purchase behaviour and more. The more customer insights you have, the better you're equipped to deliver meaningful messages to people. Similar to Facebook Page Insights, Facebook Audience Insights gives you inside information on your prospects. However, rather than focusing on your own audience, you can get insights into the audience of your competitors.
Facebook Audience Insights gives you aggregate information about two groups of people—people connected to your Page and people on Facebook—so you can create content that resonates and easily find more people like the ones in your current audience.
Demographics overview
See age and gender breakdowns, education levels, job titles, relationship statuses and more.
Find out what people like
Learn about people's interests and hobbies.
Learn about lifestyles
Audience Insights combines relationship status and location to tell you about the types of people interested in your business.
3. IFTTT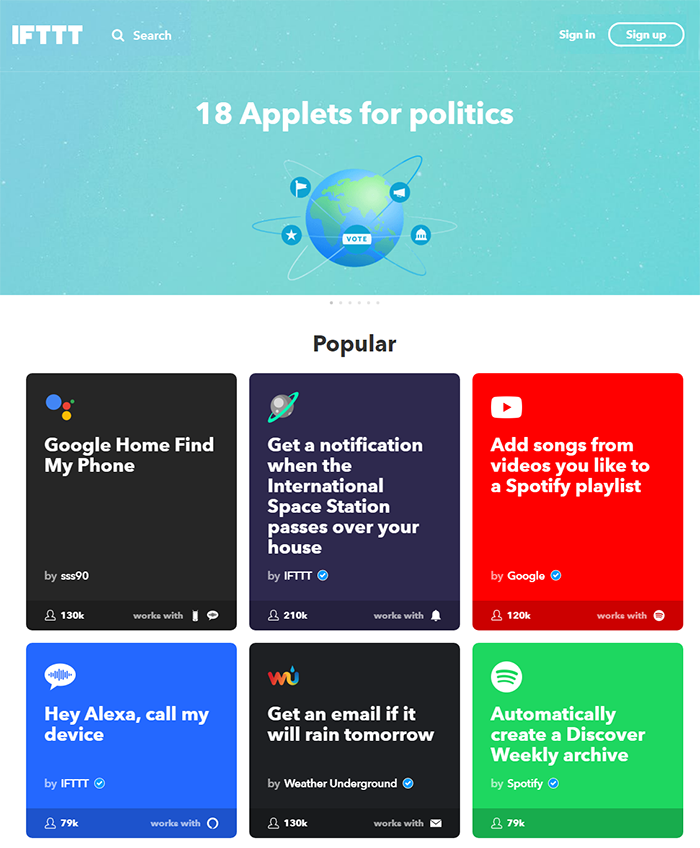 If This Then That, also known as IFTTT, is a free web-based service to create chains of simple conditional statements, called applets. It is a free platform that helps you do more with all your apps and devices.
An applet is triggered by changes that occur within other web services such as Gmail, Facebook, Instagram, or Pinterest. IFTTT lets you instigate targeted actions based on an "if this then that" format. It can be integrated with hundreds of different tools and social media networks, which makes it super powerful.
4. Google Trends
https://trends.google.com/trends/

Google Trends is a public web facility of Google Inc., based on Google Search, that shows how often a particular search-term is entered relative to the total search-volume across various regions of the world, and in various languages. Google Trends is another neat Google product. This free tool enables you to search for keywords based on volume and identify the potential of different short and long-tail search terms. This online search tool allows the user to see how often specific keywords, subjects and phrases have been queried over a specific period of time and displays results in a graph that Google calls a "Search Volume Index" graph.
5. TweetDeck
https://tweetdeck.twitter.com/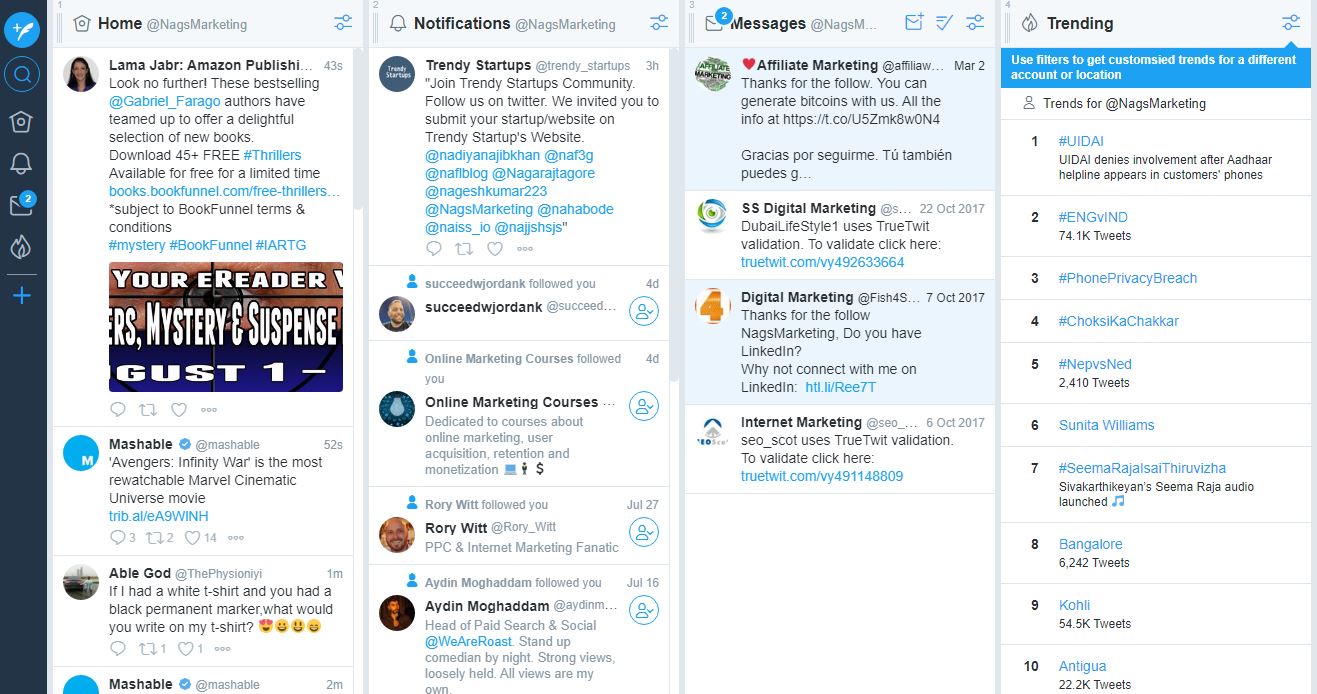 TweetDeck is a social media dashboard application for management of Twitter accounts. Like other Twitter applications it interfaces with the Twitter API to allow users to send and receive tweets and view profiles. It can be used as a web app, or a Chrome app. The most powerful Twitter tool for real-time tracking, organizing, and engagement. Reach your audiences and discover the best of Twitter. One of the more famous tools on this list, TweetDeck is widely regarded as the best free Twitter tool available. It has a variety of features and is incredibly simple to use.
6. SimilarWeb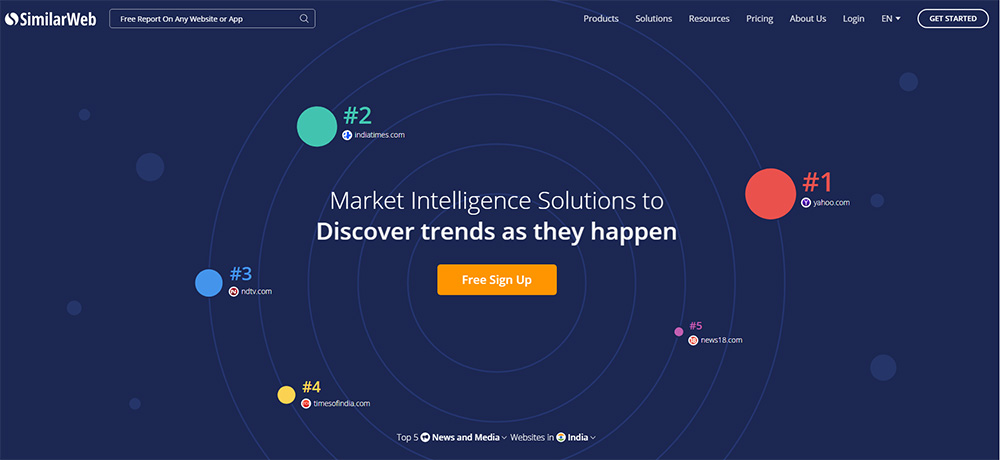 SimilarWeb is a online competitive intelligence tool for businesses that offers its customers insights into both their own and competitor's website traffic volume; referral sources, including keyword analysis; and website "stickiness" (e.g., time on site, page views, bounce rate), among other features. SimilarWeb Ltd. was co-founded in 2007 by Or Offer. It sells a software as a service product, an API product, custom reports, and professional services. From an SEO and marketing perspective, something that doesn't get discussed enough is studying the competition. With SimilarWeb, you can compare traffic between two different websites (yours versus a competitor's) and see what's happening.
7. NameMesh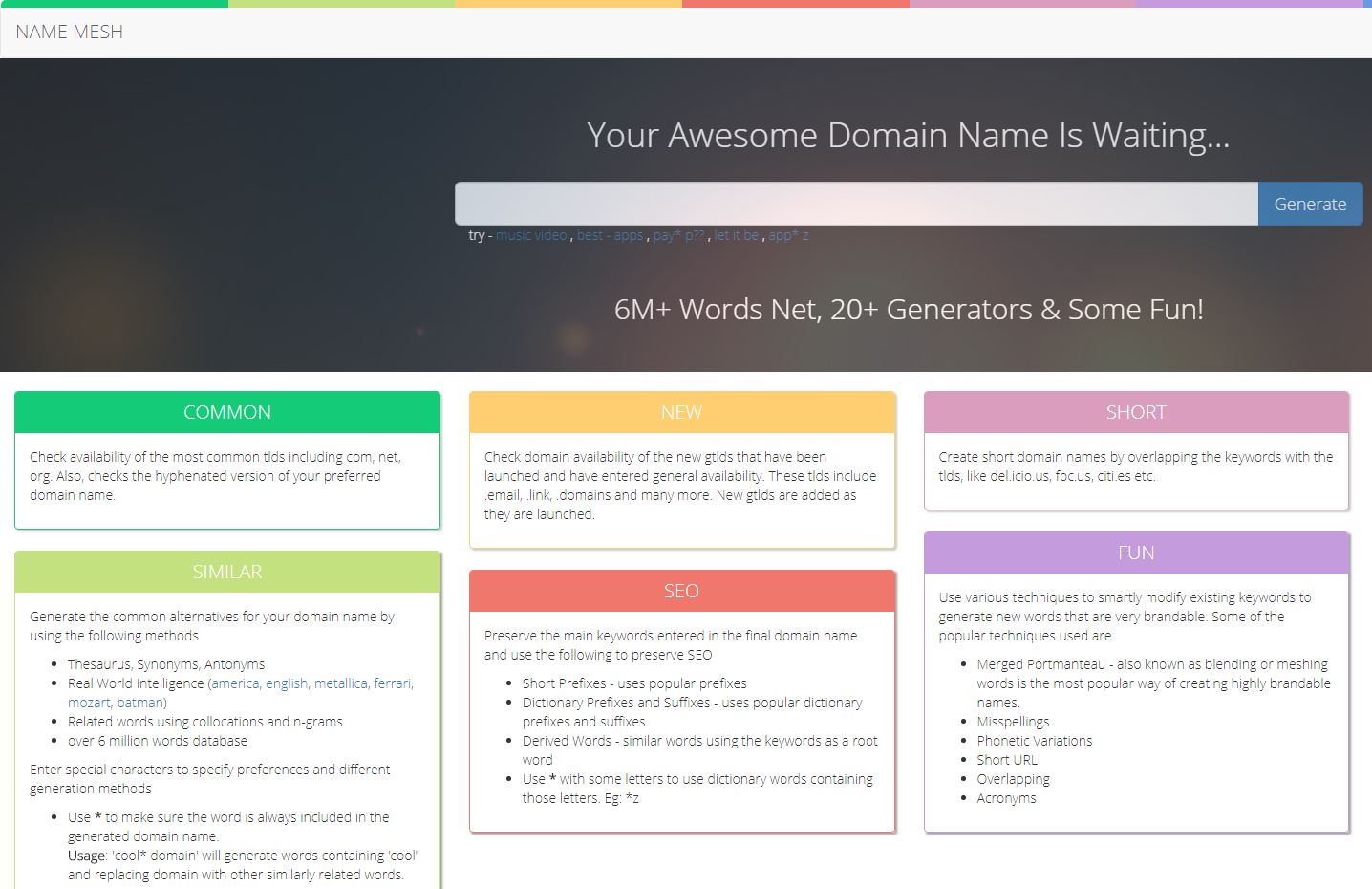 This is a very cool domain name hunting tool. You can generate domains by mixing in other words and popular suffixes like ly, ify etc. Some of the methods used are
Mix words
Simple Portmanteau – smartly merge popular suffixes like ly, ify, er, ish, ism and many more
Prefixes – use prefixes overlapping with the keywords
Suffixes – use suffixes overlapping with the keywords
8. Canva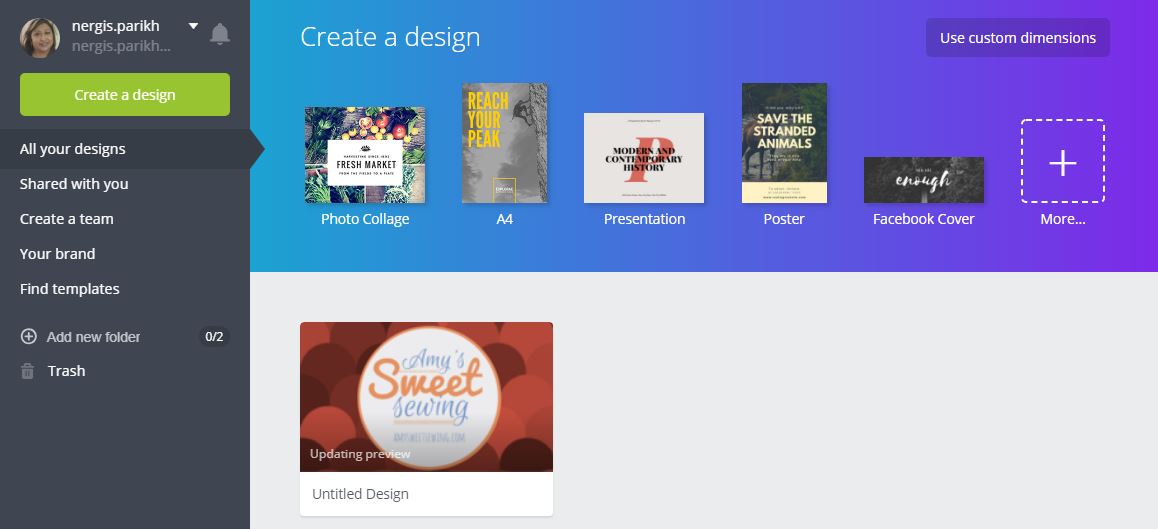 Canva is a free graphic-design tool website, founded in 2012. It has an easy to use drag-and-drop interface and provides access to over a million photographs, graphics, and fonts. It is used by non-designers as well as professionals. The tools can be used for both web and print media design and graphics.
9. Hootsuite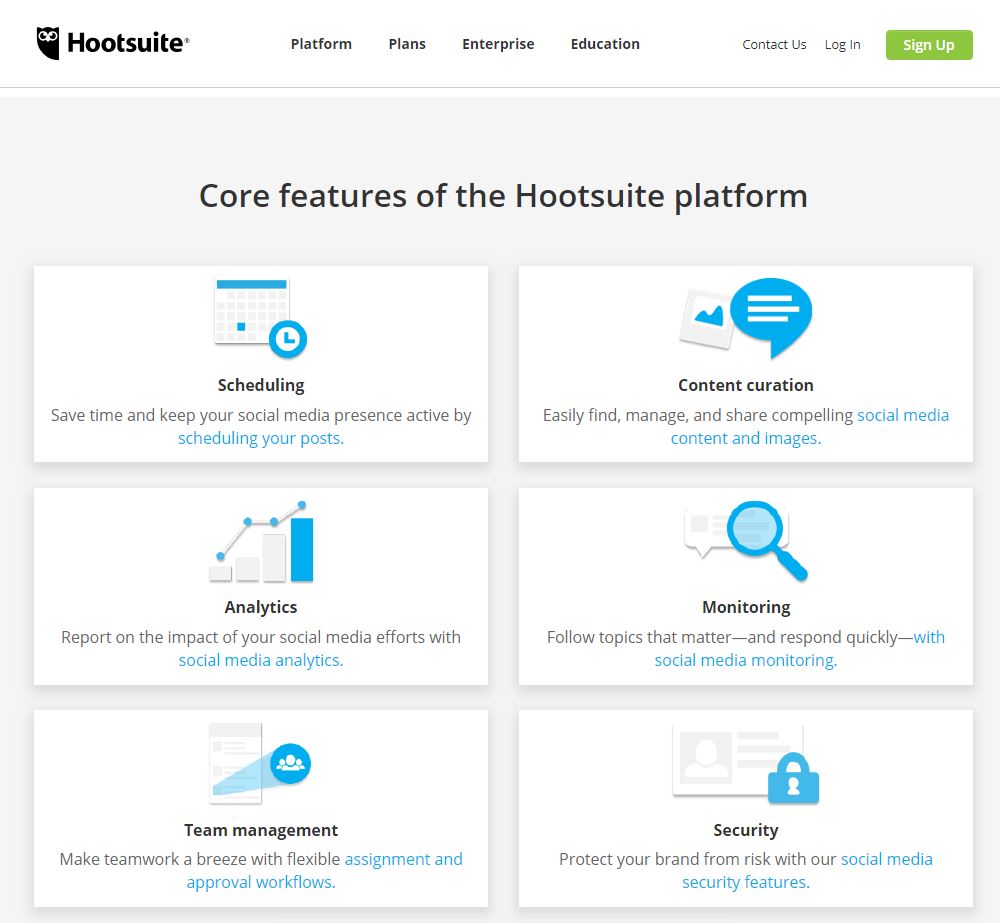 Hootsuite is a platform for managing social media, created by Ryan Holmes in 2008. The system's user interface takes the form of a dashboard, and supports social network integrations for Twitter, Facebook, Instagram, LinkedIn, Google+, YouTube, and many more. It helps you keep track and manage your many social network channels. It can enable you to monitor what people are saying about your brand and help you respond instantly.
10. Copyscape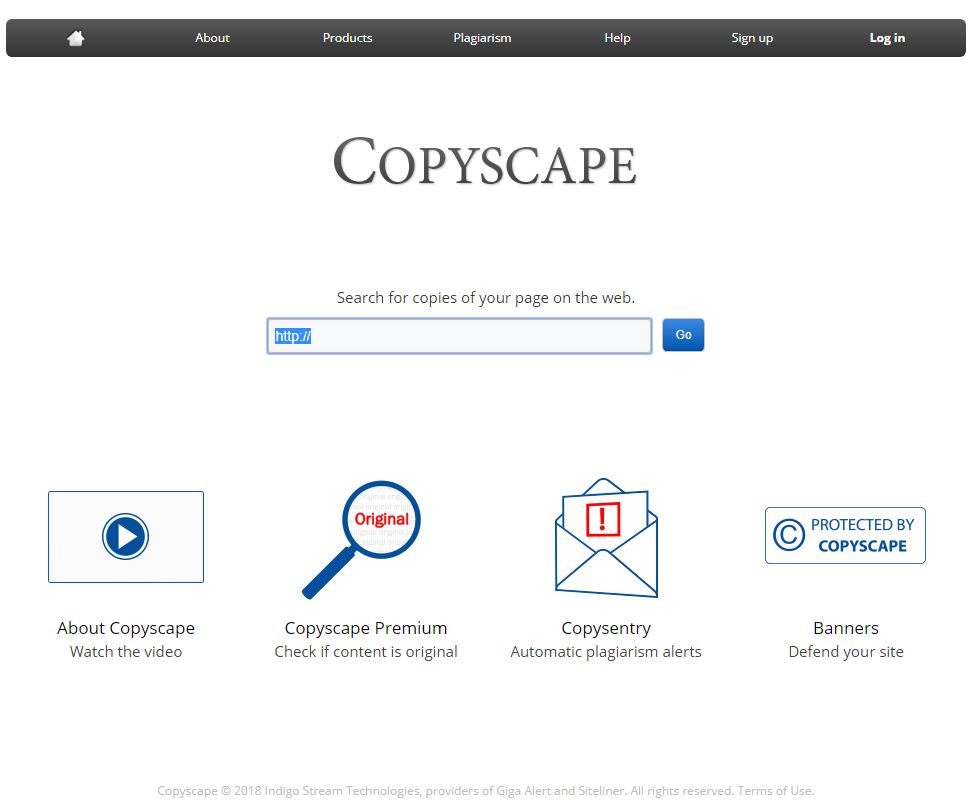 Copyscape is a free plagiarism checker. The software lets you detect duplicate content and check if your articles are original. It  is an online plagiarism detection service that checks whether similar text content appears elsewhere on the web. It was launched in 2004 by Indigo Stream Technologies, Ltd. Duplicate content can be a major SEO killer. Unfortunately, you don't always know you have it. With Copyscape, just enter a URL for a blog post or website and you'll get immediate results.
11. Evernote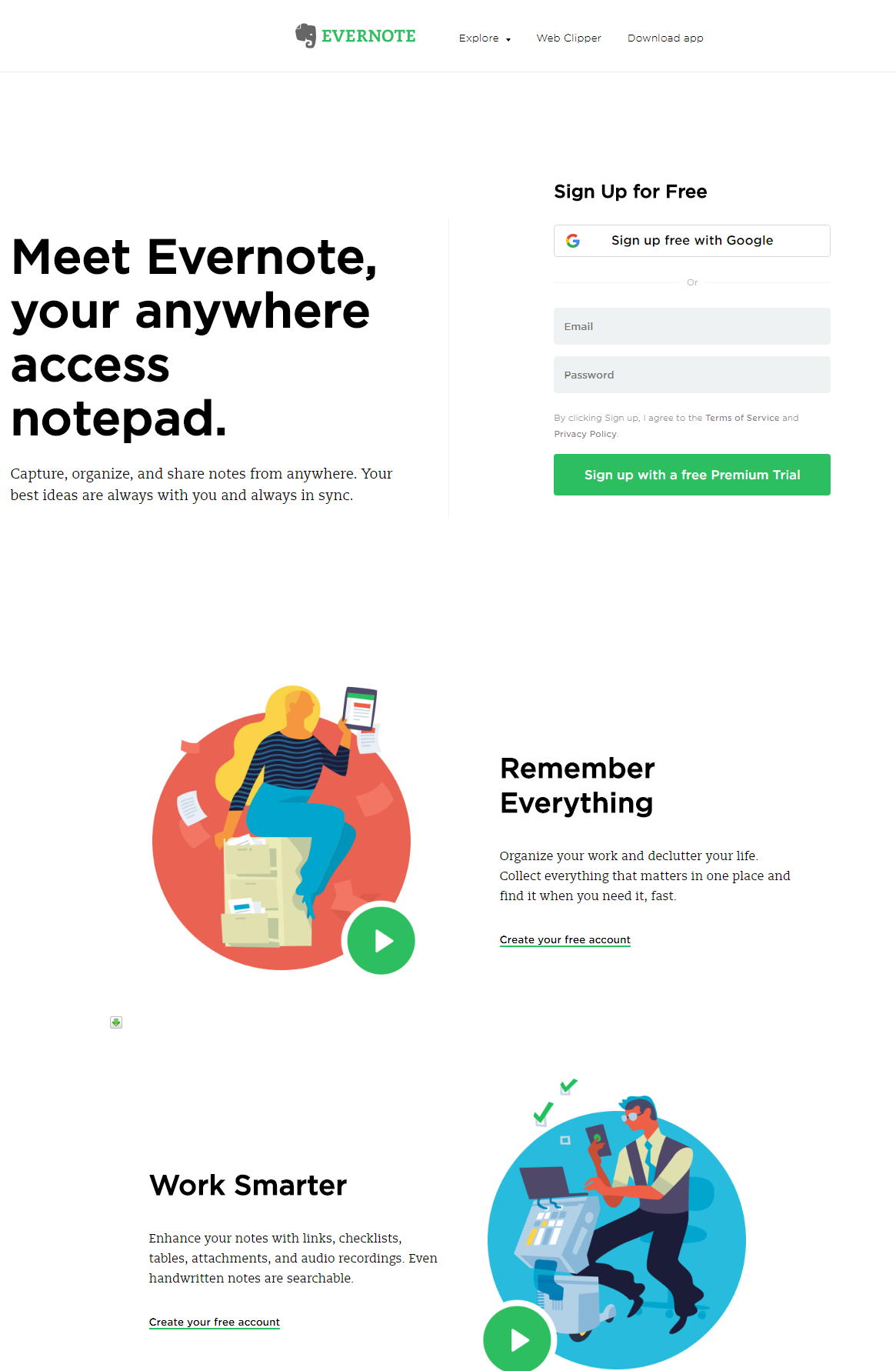 Evernote is a mobile app designed for note taking, organizing, tasks lists, and archiving. The app allows users to create notes, which can be a piece of formatted text, a Web page or Web page excerpt, a photograph, a voice memo, or a handwritten "ink" note. Notes can also have file attachments. Evernote is a cross-platform, freemium app designed for note taking, organizing, and archiving. The app allows users to create a "note" which can be a piece of formatted text, a full webpage or webpage excerpt, a photograph, a voice memo, or a handwritten "ink" note. Notes can also have file attachments. Arguably, there's no more versatile tool for online marketers than Evernote. Whether it's research notes, resources, or to-do lists, Evernote makes the research and outline process of content writing a breeze. Evernote is the app that keeps your notes organized. Memos are synced so they're accessible anywhere, and searchable so you always find what you need.
12. Portent's Content Idea Generator
https://www.portent.com/tools/title-maker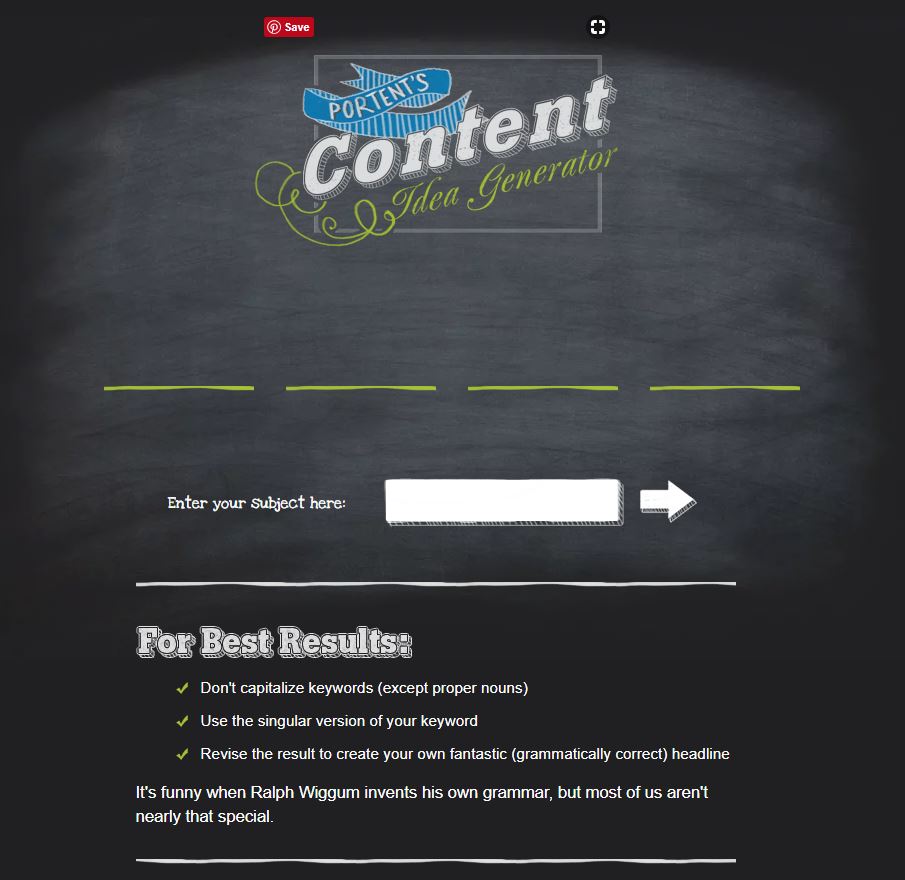 The famous title generator! Use it to come up with an array of titles for your next blog post or presentation. Some are funny. This tool is a piece of cake to use, and its chalkboard background makes it fun to play with. … You get one title and content suggestion each time you click. This generator has some personality, adding witty comments and jokes in bubbles alongside the topic suggestions.
13. SurveyMonkey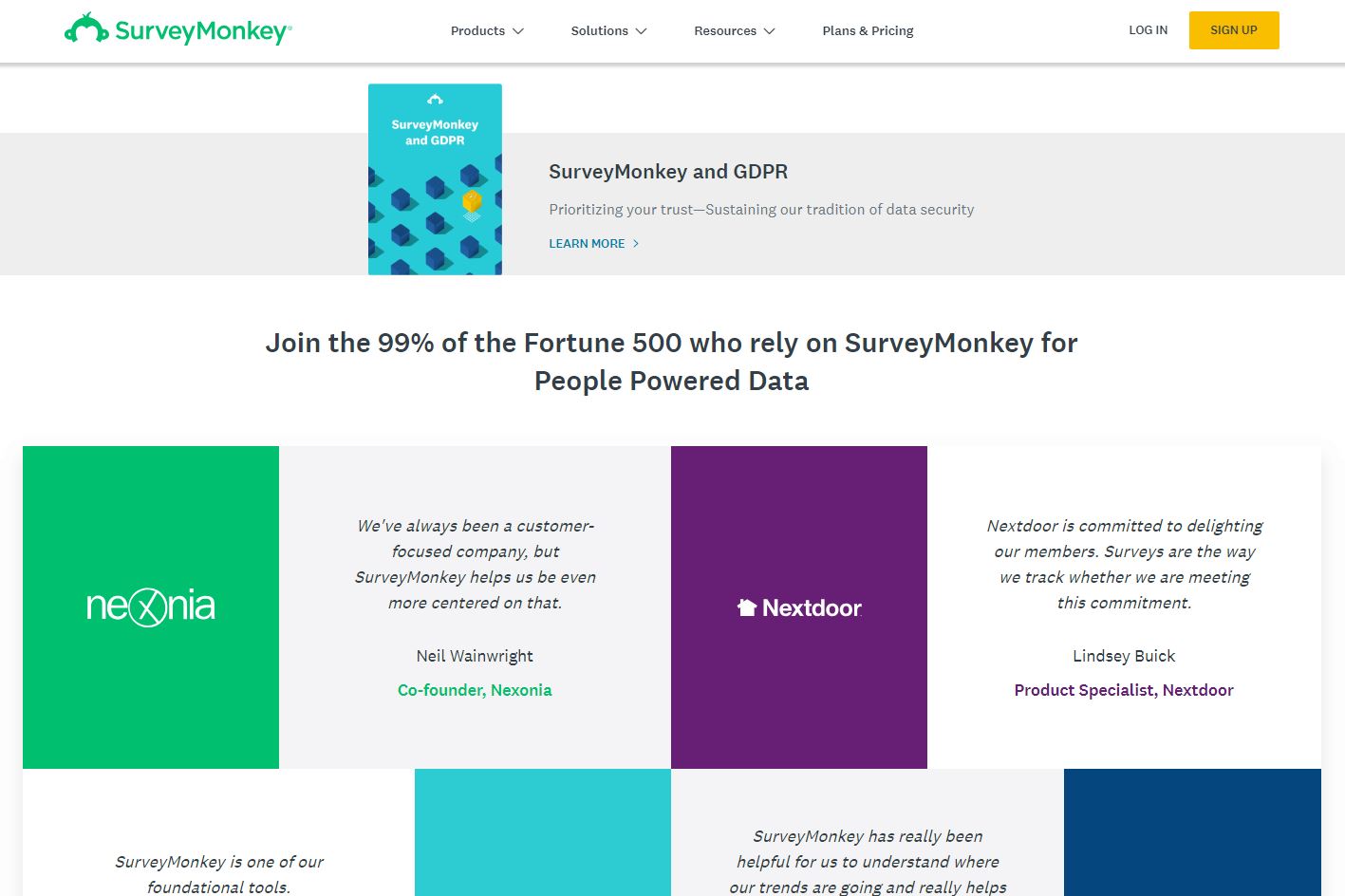 SurveyMonkey is an online survey development cloud-based software as a service company, founded in 1999 by Ryan Finley. SurveyMonkey provides free, customizable surveys, as well as a suite of paid back-end programs that include data analysis, sample selection, bias elimination, and data representation tools. In addition to providing free and paid plans for individual users, SurveyMonkey offers more large-scale enterprise options for companies interested in data analysis, brand management, and consumer-focused marketing.[10] Since releasing its enterprise in 2013, business-focused services, SurveyMonkey has grown dramatically, opening a new headquarters in San Mateo. SurveyMonkey provides data collection, data analysis, brand management, and consumer marketing for Facebook, Virgin America, Salesforce.com, Samsung, and Kraft Foods, among others. As of 2015, SurveyMonkey has 25 million users, and receives 90 million survey responses a month. The company was named to the Forbes Unicorn List in 2015. In 2016, SurveyMonkey was ranked #6 on the Forbes Cloud 100 list.
14. Sniply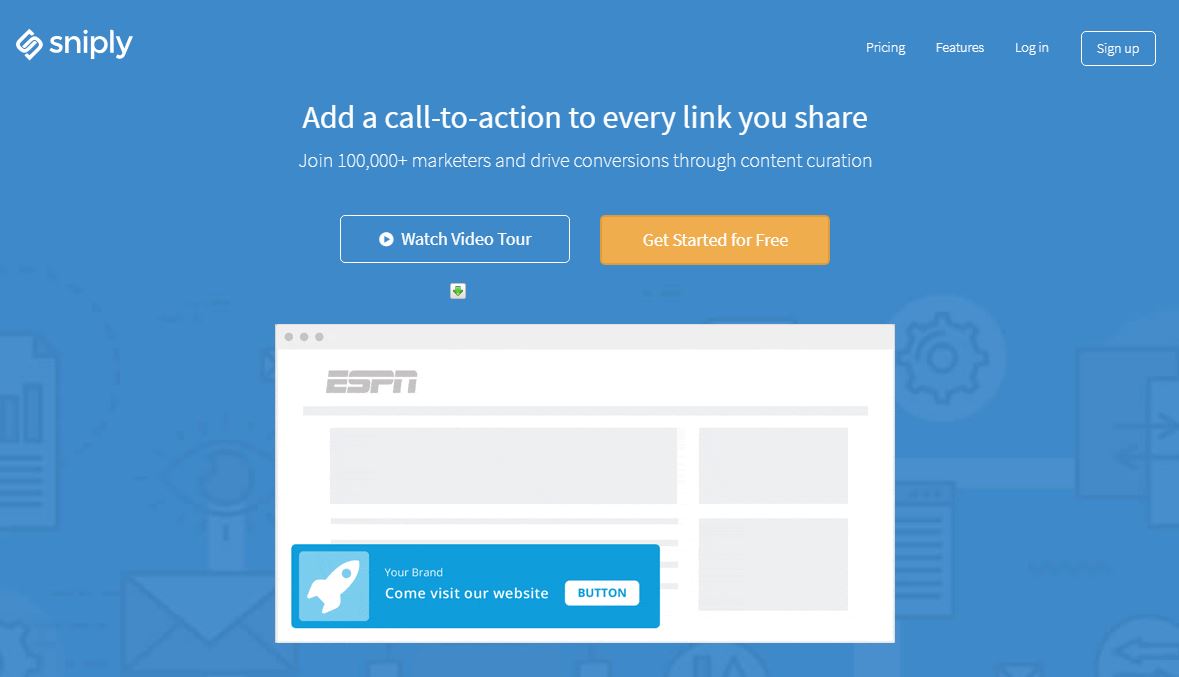 Sniply is a simple tool that allows you to overlay your own custom message onto any piece of content. You don't have to own the content to add your message, so you can appear on Mashable, New York Times, TechCrunch and pretty much wherever you wish! drive conversion through content curation. Add a call-to-action to every link you share-Join 100,000+ marketers and drive conversions through content curation
15. Google Analytics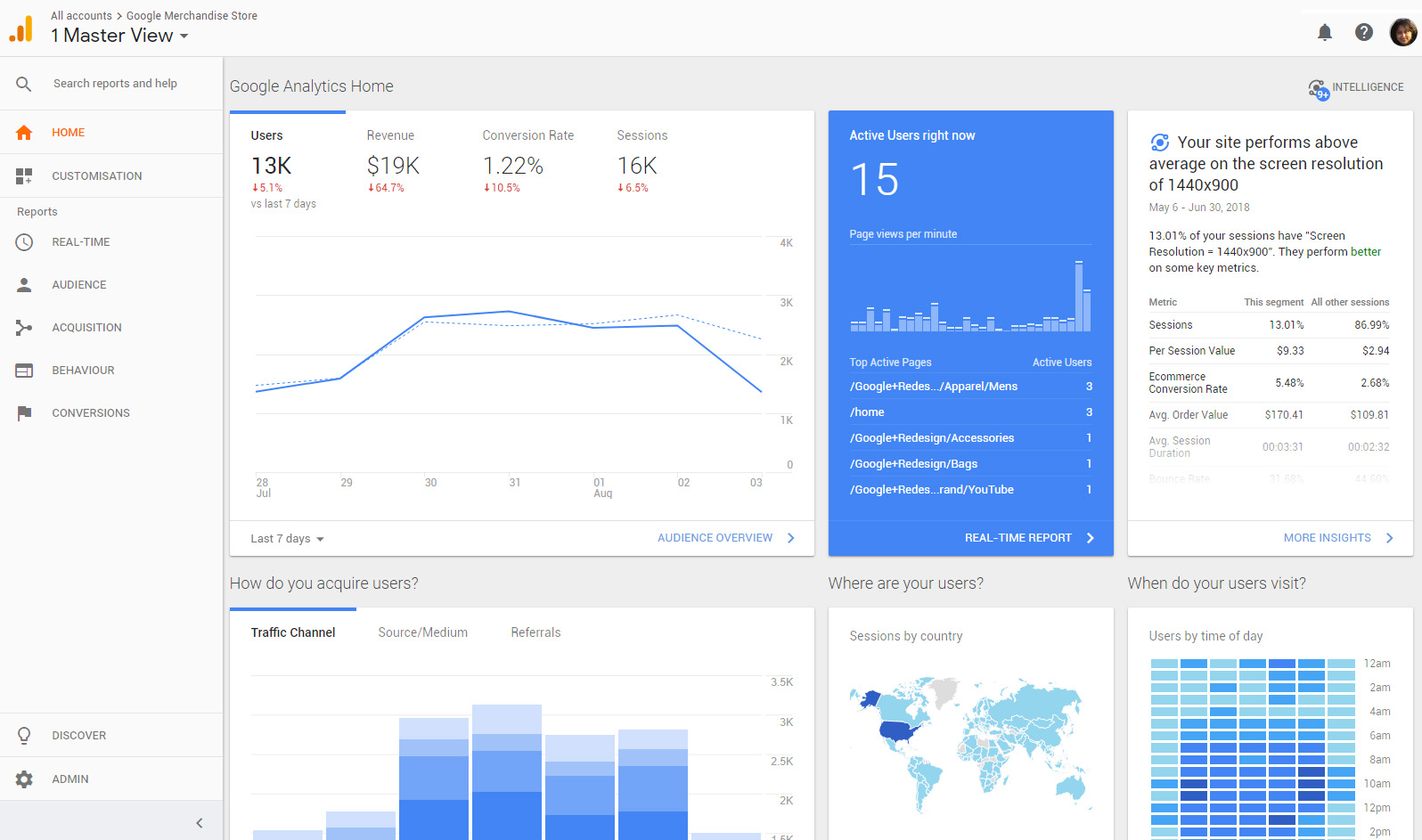 Google Analytics is a freemium web analytics service offered by Google that tracks and reports website traffic. Google launched the service in November 2005 after acquiring Urchin. Google Analytics is now the most widely used web analytics service on the Internet. Google Analytics lets you measure your advertising ROI as well as track your Flash, video, and social networking sites and applications. It is the industry standard for web analytics and can help you find out how your website is performing. This powerful platform provides you with the tools you need to measure site traffic, conversions, and ad performance, and understand how people use your website.
16. Spyfu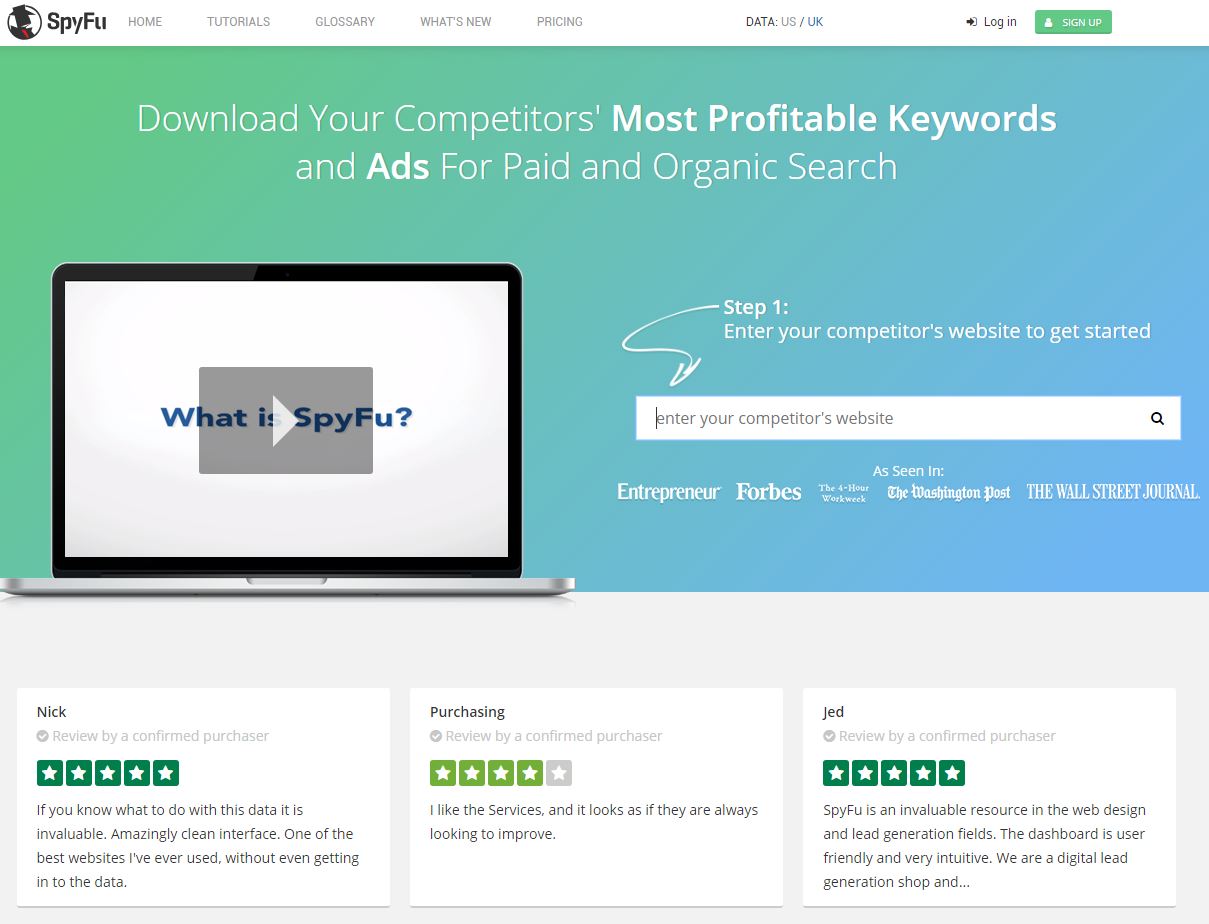 SpyFu, originally GoogSpy, is a search analytics company based out of Scottsdale, AZ. Started in April 2005, SpyFu shows the keywords that websites buy on Google Adwords as well as the keywords that websites are showing up for within search results. … SpyFu can also uncover emerging or niche markets. SpyFu exposes the search marketing secret formula of your most successful competitors. It is is a competitor research tool that helps you to find your competitors' most profitable keywords. That way, you can increase your own traffic and outrank your competitors.
17. WordPress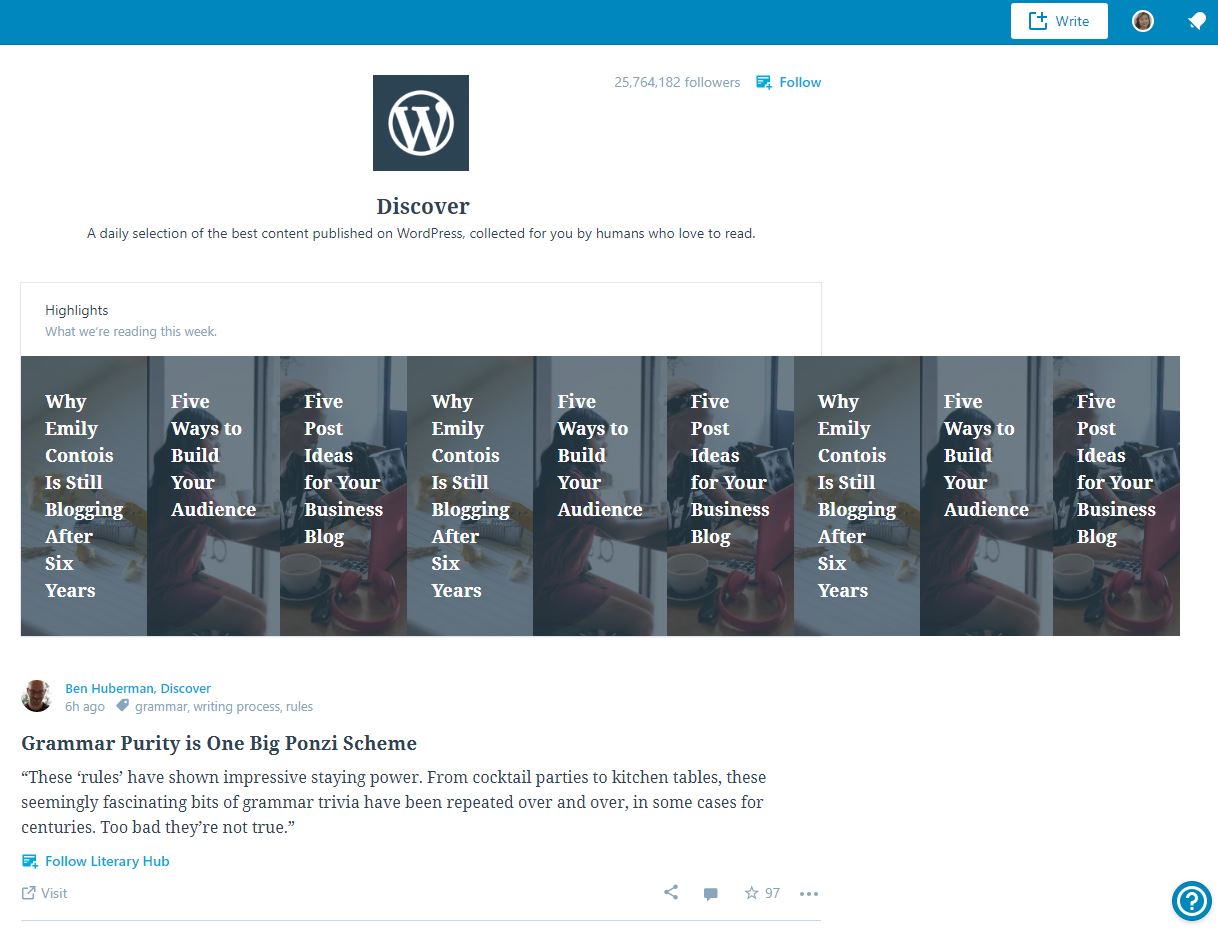 WordPress is a free and open-source content management system based on PHP and MySQL. Features include a plugin architecture and a template system. WordPress is an online, open source website creation tool written in PHP. But in non-geek speak, it's probably the easiest and most powerful blogging and website content management system (or CMS) in existence today.
18. Headline Analyzer
https://coschedule.com/headline-analyzer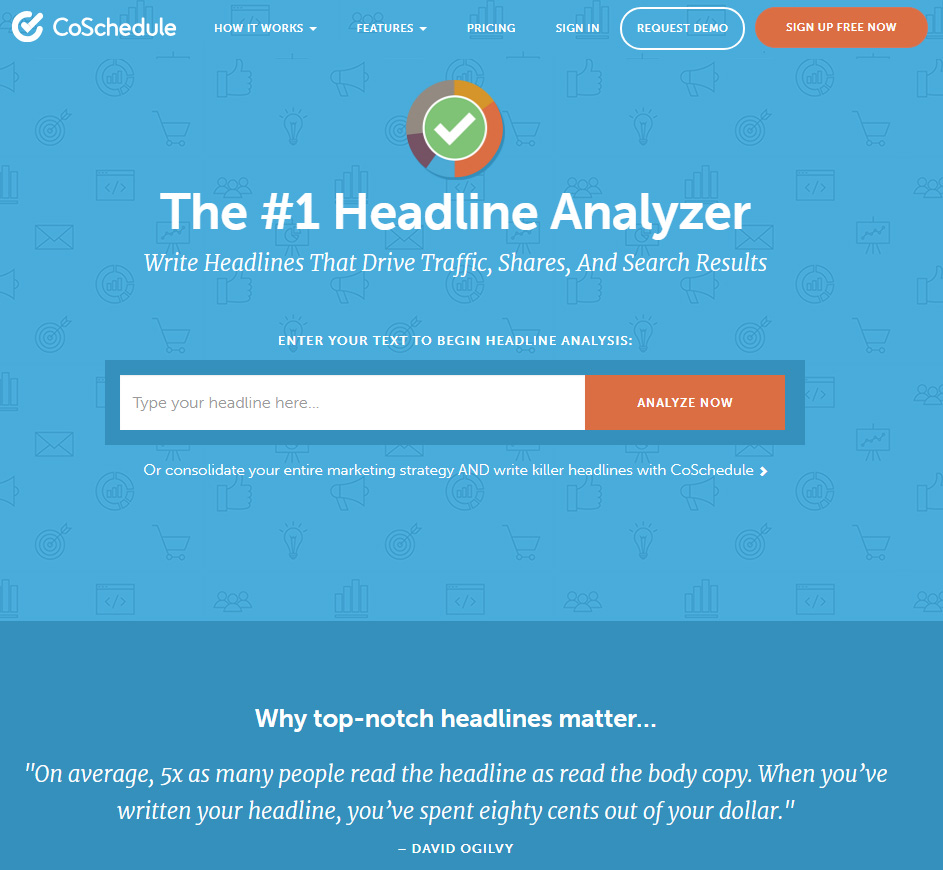 If you want to write Headlines that drive Traffic, Shares, and Search Results, you better head over to Headline Analyzer from CoSchedule. According to David Mackenzie Ogilvy of Ogilvy & Mather, top-notch headlines matter because
"On average, 5x as many people read the headline as read the body copy. When you've written your headline, you've spent eighty cents out of your dollar."
19. Google Alerts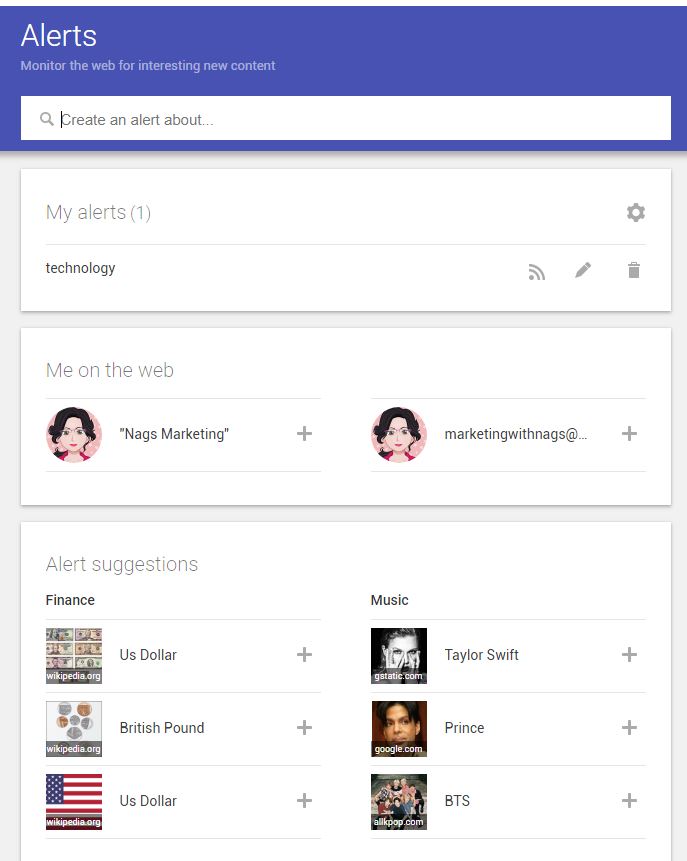 Google Alerts is a content change detection and notification service, offered by the search engine company Google. The service sends emails to the user when it finds new results—such as web pages, newspaper articles, blogs, or scientific research—that match the user's search term(s). Google Alerts allows you to discover the social media platforms that are driving traffic to your site. Every time your brand or keywords are mentioned, you'll get a notification. It's a powerful tool, and it's free to use.
20. Facebook Page Insights
https://www.facebook.com/business/a/page/page-insights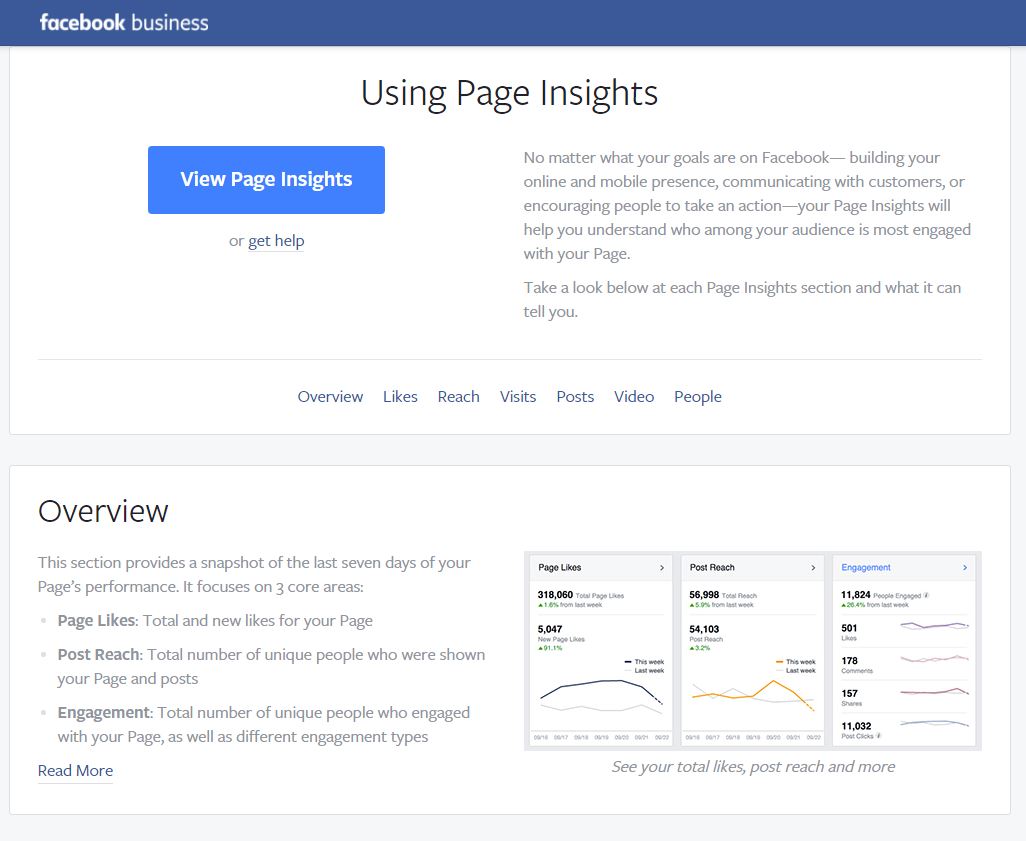 Facebook Insights is a pretty powerful tool for those wanting to track user interaction on their Facebook Fan Page. Facebook Insights can be seen by all the admins of your page and it can help you track the number of active users to better understand page performance. Anyone who does Facebook marketing and advertising needs to use Facebook Page Insights. It lets you peak behind the curtains and understand the behaviour of your customers (which is valuable outside of Facebook, too).
21. Grammarly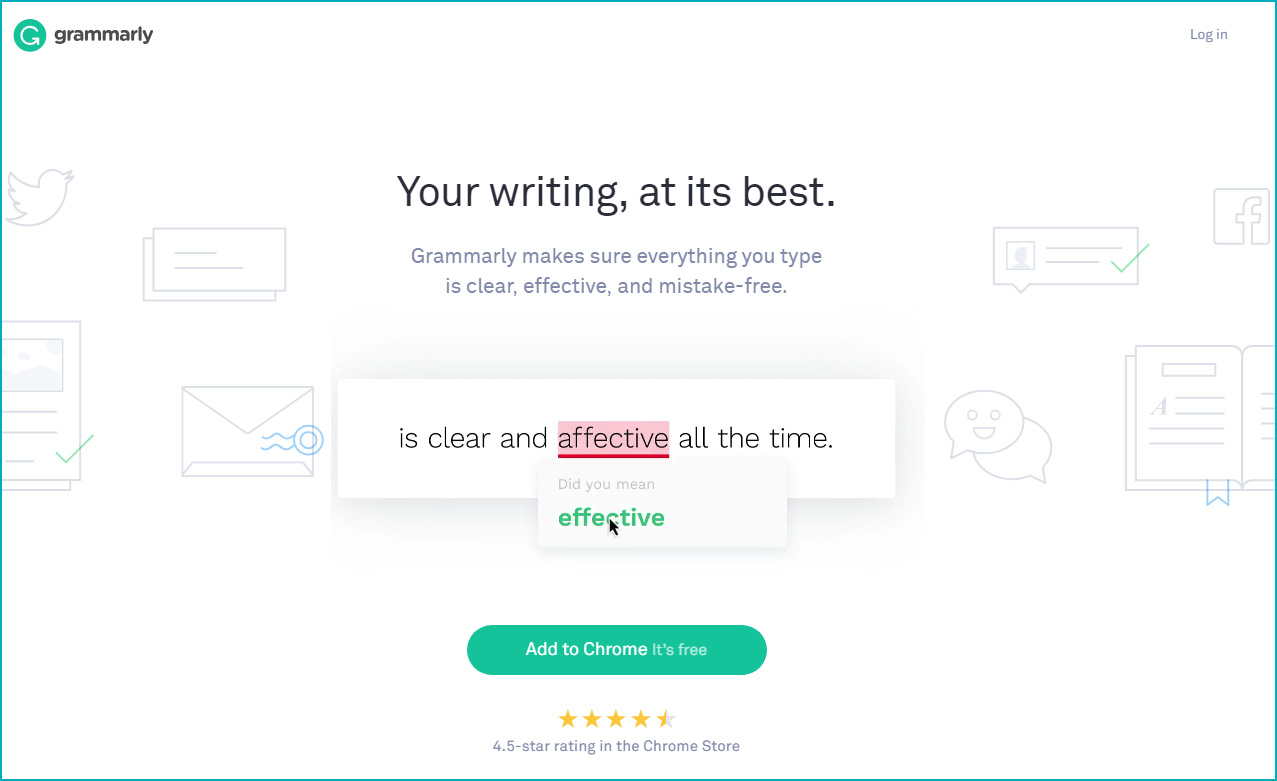 Grammarly is an app that automatically detects potential grammar, spelling, punctuation, word choice, and style mistakes in writing. Grammarly's algorithms flag potential issues in the text and suggest context-specific corrections for grammar, spelling, wordiness, style, punctuation, and plagiarism. Millions trust Grammarly's free writing app to make their messages, documents, and posts clear, mistake-free, and effective.