RSS, the full form being Really Simple Syndication, is just a normal text file on your website, containing matter that will automatically update as and when fresh content is added.
RSS feeds are a way of dispersing the most recent short articles released by an internet site. They have global support in web standards which allow internet users to follow updates from a website's content. They can be used for diverse information like information on national politics as well as showing off occasions. RSS Feeds are a fantastic means to release material that is consistently upgraded. The real marvel is in the simplicity with which you can disperse web content as an internet author, or accumulate it as a web content manager.
Reading up on an internet site's RSS feed offers you the chance to remain current on every little thing that the web site releases. If you're like the majority of people who are too busy all day, this is an excellent method to ensure you do not lose out on your favored site's material. You can stay updated on whatever that a web site releases, whether that's an information site or a favored blog site, and make sure that you do not lose out on fresh and also brand-new material that you know you want to keep abreat of.
A great deal of noticeable wire service like Reuters as well as The Guardian release several RSS feeds for numerous classifications of web content. Smaller sized wire services that do not have the methods to send out contributors to all edges of the globe can merely curate material from these feeds, while clearly carrying acknowledgment to the initial source of information.
There are many ways to locate an RSS Feed URL. By default, WordPress websites have RSS feeds readily available unless they're manually eliminated by the website admins. But if you aren't certain what CMS modern technology an internet site is making use of, these pointers will certainly aid you to locate an RSS feed.
Let's look at some methods to locate the RSS Feed URLs now.
1. WordPress Websites
WordPress powers more than 33% of the Internet websites.
It also has over 65% of the market share when it comes to CMS used the world over. The second highest is Shopify with 6.1%. Look at the gap betwen the two. Amazing isn't it?

(source: https://w3techs.com/technologies/history_overview/content_management)
So it makes sense that you first try this method, which is for WP websites, right? For WordPress websites' RSS feeds, you need to just add '/feed' at the end of the URL. An example would be
https://mywebsite.com/feed
Try doing this for any webiste that you like for which you want an RSS feed — it will almost likely always work, presuming that it is a WordPress site.
"Feed" can also be appended to the end of a category or tag URL to get feeds for specific categories or tags like this
https://mywebsite.com/category/feed/
https://mywebsite.com/tag/feed/
Sometimes, adding "/rss/" to the end of the website URL also works. While not as common as "feed" some sites will cough up the RSS feed URL when you append "RSS" to the end of the URL as well. If the first option doesn't work, this is a good second tactic to try.
2. Other CMS (Content Management Systems) and Platforms
Here are some ways to find RSS feeds for other types of platforms.
Shopify
For sites hosted on Shopify, it is also very easy to get teh RSS Feed URL because Shopify creates an RSS feed automatically for every blog that the author posts, so that their customers can subscribe to it and receive notifications when they publish a new post. The feed URL is the URL of the blog page with . atom added to the end of the URL. For example, http://store.myshopify.com/blogs/blogname.atom
Joomla, Drupal etc
Surprisingly, Joomla, Drupal and other CMs's don't seem to have good built-in support for RSS. It's quite possible that a site on Joomla won't have an RSS feed URL. In such a case you will have to depend on manual methods like using a browser extension to find it, or go through the source code. Read on to see these methods that have been covered a little further down this article.
Youtube, Blogger etc
YouTube – For YouTube channels, the URL itself serves also as the RSS feed. So you can use the same Channel URL as your RSS Feed URL.
Blogger – For sites hosted on Blogger, add feeds/posts/default to the end of the URL. This is what it should look like: mysitename.blogspot.com/feeds/posts/default
Tumblr – For sites hosted on Tumblr, add /rss to the end of the URL. It should look like this: https://mysitename.tumblr.com/rss
Medium – For posts published on Medium, add /feed/ before your medium site's name. So medium.com/mysitename becomes https://medium.com/feed/mysitename
3. The Orange RSS Logo
If the above didn't work out for the site you are trying to locate the RSS Feed for, try looking for the RSS logo. Its very noticeable. This is how it looks. 
The orange RSS logo you see above is something you must have seen very often. If you see this on a website who's feed you want, just go ahead and click on it to go to the website's RSS feed. Once there, from the address bar, you can get the RSS feed URL. Or you can right click on the RSS logo and click on "copy the link address" to get the RSS feed URL.
4. Page Source of any Webpage
Ok, so you couldn't locate the RSS logo either. Don't worry, you can also locate the RSS Feed URL from the page source of a web page. Simply right clcik on an empty white (or otherwise) space on the page and click on the second last link (in Chrome – might differ from browser to browser) called "View page source".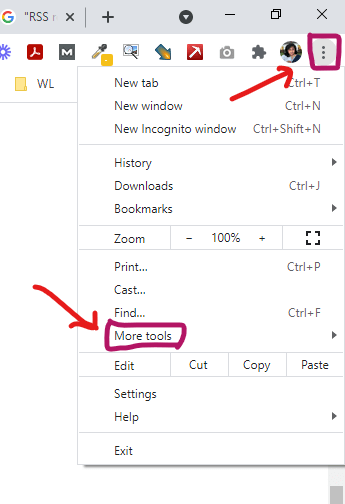 In case the right click has been disabled, you will know that it is disabled if nothing happens when you right click on the page, or you get a message that this feature has been disabled, then simply type out "view-source:" in front of the full address URL, without leaving any space, on the address bar. It should look something like this
view-source:https://mywebsite.com/
Once you are viewing the source code of the page, use the Find command (Ctrl + F on a PC or Command + F on a Mac) to find the word RSS. With this you can easily locate the RSS Feed URL.
5. RSS browser extensions
One more simple way to locate RSS feeds and subscribe to them is to install an RSS extension on your browser. This will get you the feeds you want automatically without you having to go through the effort manually every time.
One of the more popular extentions is the Chrome Extention called "RSS Subscription Extension". Once you install it and visit any site, it will scan the HTML code for an RSS feed and automatically show you the Orange RSS icon at the end of the top URL Address Bar (called the Omnibox). When it shows up on a site you want the feed for, just click on the icon and subscribe. The extension already has a suggestion of RSS feed readers selected for you, but you can also add a different web-based feed reader of your choice.
6. Custom RSS feeds
These days, RSS feeds are not used just to read from or curate content from websites. People are increasing adding RSS to their email inbox. Yes that right, you can now simply direct all newsletter updates you want to read to the RSS reader of your choice.
Try this tool: Kill the Newsletter – It will automatically create a custom RSS feed ready to be added to your RSS feed reader. 
What you see above is all it has on the whole page. Just one field for you to write into. Fill in the name of the newsletter that you want the RSS Feed for and click on "Create Inbox". Done! 
Do you have any other ways that you check RSS Feeds for? Do write in and let us know.