One way to strengthen your affiliate marketing campaign is to use webinars. Webinars are a great way, not only to communicate with your customers and prospects, but also to educate them about the product you are trying to sell.  With webinars, you can reach your audience on a level that you can't do with email campaigns or your blog website.
What is a Webinar?
A webinar is very similar to a seminar, except that it is conducted online, not physically in a hall. All you need to do your own webinar is a computer or laptop, a decent webcam, and a good Internet connection.  
Why Use Webinars?
Wide Reach
One of the main reasons is the reach – because it's done online, you will be able to reach a massive audience worldwide. Whereas a seminar that is confined to one single room, in a webinar you are able to speak to people anywhere in the world.
If you are planning to invite  guest speakers for your webinar, they too can conduct their presentation from wherever in the world they are. The reach of a webinar goes as far and wide as the Internet's.
Low Costs
The second main reason is the costing of the event. In a webinar your cost of booking the hall, booking the equipment, refreshments for the attendees, travel costs for yourself and your co-hosts, if any… all these are substantially mitigated. All you need is a reasonably good webcam and a very good internet connection. And although some webinar platforms can be a little expensive with monthly payments, it is still much less than what you would pay to hold a seminar instead. You also have cheaper options for webinar platforms that you can start off with and use quite successfully. We will have a look at some of these platforms later.
In the case of guest speakers, think of the time and money you will save on their transportation, accommodation, and other expenditures that you will need to spend for a normal seminar.
Great Affiliate Tool
With webinars you don't need to rely on Google to make sales, and for this reason they are one of the best marketing tools for affiliate marketers. When you rely on your web pages to make sales, you have to be constant aware of the way that Google keeps changing its algorithm for search results. Which means you should know how to build inbound/outbound links, have good on-site and off-page SEO content, regularly update your website and a host of other stuff. This can be a challenge especially for affiliate marketers who do not have the time to go into the dynamics of these intricacies.
Total Control
Holding a webinar gives you complete control over the event because there are no  interferences from any third party. When you are able to have complete control over a large audience without any external disturbances, you can  concentrate on conducting the webinar in the manner you want. You can also decide when you want to accept and answer any queries, you can also have someone else online to answer the questions and in fact you can decide whether you want any interaction at all.
Teach and Earn at the same time
Statistics have shown that webinars are one of the most effective ways to make sales and increase the commissions you can receive as an affiliate marketer.
The whole purpose of a webinar is to be selling products through affiliate marketing, but the beauty is that webinars give you the chance to also educate your audience about the benefits of using the products you are promoting. Often through webinars you can teach people how to do a particular activity, say, how to make money through selling affiliate products from Amazon. And at the same time, you can also show them how they can do it 10 times faster through automation, with the product that you are trying to sell to them.
No worries about time or place
You can hold a webinar at your own time and convenience. It can be done at whatever time that suits you. You are the organizer, the moderator and the speaker, all in one, which means you are free to set it for the time you want. You don't need to worry too much about the time zone differences, since a webinar can be recorded and a recording sent to your invitees to watch at their leisure.
All you need is a good Internet connection and a quiet place with your computer with webcam. And you're ready to conduct your webinar.
What are Webinars used for
Although traditionally webinars were for substituting seminars, they have evolved into a lot more
Training
Webinars are a perfect way to conduct group or one on one training. A perfect example is of a coaching program that conducts its lessons by way of a weekly webinar. The students can attend the webinar at the designated date and time, they login to the webinar platform with the link send to them and can also interact with the presenter by typing in questions. They can also view questions asked by other attendees and the answers that are given to them. In case they miss the webinar, after registering for it, they can also watch it later with the recording link sent to them by the presenter.
Marketing
Webinar marketing has become a favoured strategy for brands wanting to build a more meaningful relationship with their target audience. Through webinars, the marketing team gets to capture new prospects. They can assess your audience and educate them to buy the product/service being marketed as well as nurture the ones that didn't convert into buyers and keep retargeting and remarketing to them.
A great way to expand your webinar reach is to create partnerships with brands that have a valuable audience. You don't have to team up with people that are your direct competitors, but you can definitely link up with brands that have a similar target audience as yours. Check to see which other brands your type of audience are engaging with and make your decision. If you are able to tie up with a person or a brand bigger than yourself in the same niche as you, that is awesome for you.
How to Increase your Affiliate Sales with Webinars
The Webinar Sales Process
According to John Janstch of Duct Tape Marketing, there are seven touch-points of the customer experience. He outlines how you, as a marketer, have to hit all Seven of these touch-points to turn someone from a cold lead to a loyal customer. Here's how you can hit all of these touch-points with your webinar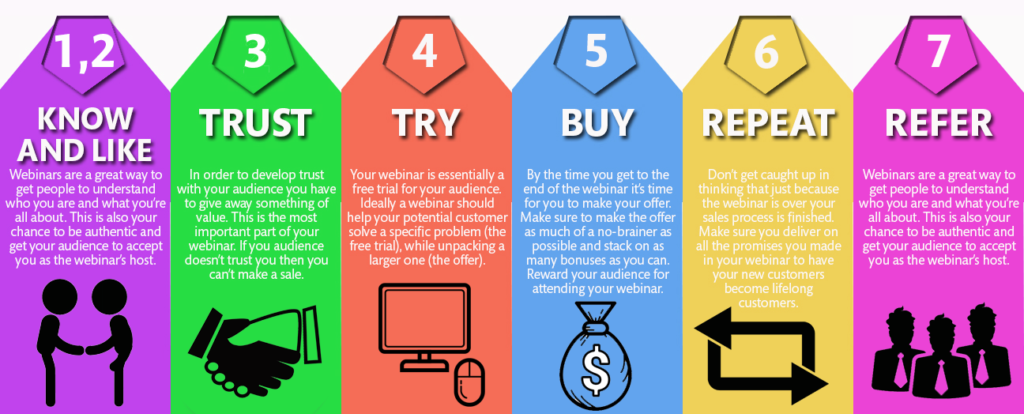 Source: https://foundr.com/webinar-sales/
1. Choosing the Webinar Platform
The first decision you have to take is to decide which webinar platform you are going to use. There are plenty of choices available – from free options to monthly paying ones. If you are just beginning your INternet Marketing journey, you can think of starting with a free option. If you are thinking of automating your webinar strategy in any way, you will need a specialist platform like EverWebinar. Whichever one you choose, there are some things you just cannot compromise on if you want to stay n the game.
Check out our list of webinar marketing platforms available for more help on choosing the right platform for your needs.
2. High Speed Internet
If you are doing a live event, then this is THE most important component, without which you cannot hold a webinar, lol. You need to make sure that your connection does not drop, otherwise you will have a broken webinar. If you are uploading a pre-recorded presentation to the platform, then this does not matter too much.
3. Audio & Video Quality
If you can make sure that BOTH, the visual and audio experiences for your attendees are good, half the battle is won. If either the audio or the video is of poor quality, your audience will leave half way or sooner and not return.
There is nothing more annoying than having the audio stop or the video get distorted during a webinar. Have you tried watching a movie that keeps flickering on your tv or one where the sound suddenly stops. Think about it. How long will you keep watching such a movie? It's the same with your webinar. If your audience cannot see or hear the content clearly, you will not have any audience left very soon!
4. Target the Right Audience
Start by carefully segmenting and targeting your audiences, so that you are able to target the right audience for the product you are marketing during your webinar.
For example, if you are marketing a graphic design tool during your webinar, and you send an invite to a list of people whose main niche and interest is Yoga, will you attract people who will want to attend your webinar? You sure won't.
You can use targeting options on marketing platforms like AdWords and Facebook or Instagram to reach the right audience for your webinar.  This way you will be sure to get signups from interested people who are more likely to actually watch your webinar.
5. Have a Long Term Goal for your Webinar
It's not enough to randomly hold a webinar to market one product and then that's it.
You need to have a well planned strategy for your webinar. The webinar itself should be only one part of a much larger goal. It's important you know what role your webinar is going to play in your long term objectives – especially if you're going to publish multiple webinars with different marketing objectives.
One of your webinars might be designed to raise awareness about a new product, for example. While a later event could be designed to educate your audience and train them on the features on the product, a third would be to push sales more directly. Or you might want to do all these three in one webinar and have an incentive as a 50% discount for anyone who purchases before the webinar ends. The options are endless.
Be focused and plan your strategy well in advance to have clear goals for every webinar you publish.
6. Educate, don't just Sell
One of the most important aspects of any webinar should be to educate your audience. When I attend any webinar, and I feel I have learnt just one new thing from it, I feel satisfied. If it was just a sales pitch throughout, I will not attend another webinar of that vendor or marketer.
Remember, it the same for your audience. No one likes to be sales pitched to for 45 minutes or an hour without learning anything new or without getting anything in return. That will only make certain that half those people will never attend another webinar from you.
Give something valuable to your attendees in return for attending your webinar. Time is money for everyone today, and if people have spent 45 minutes or an hour listening to you speak, there should be something in it for them, even if they do not buy your product or service. It's not enough to give them a discount on the product. Give them something more – either a freebie bonus product for attending, or a secret strategy / lesson about the product in question that is new and unused.

7. Mobile Friendly Webinars
In today's global environment, where people are always on the move, most people catch on their emails, the news as well as entertainment on their cell phones. Therefore you need to make sure that your viewers can access your webinar from whichever device they choose. Be certain that your webinars are optimised for mobile and that the third-party tool that you use to host or market your webinars supports mobile devices.
8. Clear CTA (Call To Action)
The basic idea of holding a webinar is to get people to buy what you are selling. Right?
So make sure that you have a very clear and simple CTA throughout the webinar. Or at least towards the end. A good idea is to have the CTA as a banner at the bottom during that last 10 to 15 minutes of the webinar. People need time to make up their minds. They are not going to click "Buy" as soon as you make the offer, especially if it is high value product, which it is normal for a webinar. So give them enough time to ponder and decide by keeping the CTA in clear view.
9. Have a Follow-up plan
Though the main plan is to get people to buy, at the very least it is to get new leads.
Naturally, not everyone who attends is going to buy the product, in fact very few, maybe a fraction of them will.
For the rest, you need to have a strategic follow up plan to re-target and re-market to them. At the same time, remember the mantra of giving more value, keep on nurturing them through valuable and insightful material. Make sure they will come back to your next webinar, open your next email and start looking to you as an authority in your niche.