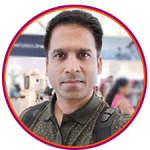 Cyril Jeet Gupta runs Tekniforce Ventures LLC, a fast-growing creator of high-quality and unique Internet marketing tools for online marketers.
He has a team of expert software developers and Internet entrepreneurs who develop and deliver innovative software applications and web & desktop based software to help you get things done better and faster. Cyril has under his belt, more than 40 ultra successful and powerful products for Internet based entrepreneurs, created with real market research and tested to deliver the results they promise.
At Teknikforce, they are continually launching newer and more innovative applications targeted towards many different ends of the Internet business. Applications that are supremely useful, and superbly usable. Right from marketing design to the product, their team chases perfection in everything they do. With the kind of products Cyril creates and his top notch support staff, it's no surprise that he's got 35 Product of the Day awards on JVZoo so far.
All his products are created after months of research from their team to help entrepreneurs like you and me, to help us in our Internet Marketing by implementing highly successful, tried and tested strategies using desktop, web and mobile apps, plugins and SaaS.
When you buy a Teknikforce product, you don't have to worry about it's quality or it's after sales support.