Boosting Your Website Traffic Introduction 
Over the last several decades, the real world has moved online, and so has the money. Whether it's for a commercial website, personal blog, turning a profit through online advertising, or finding a way to improve the exposure for your business, today's currency of success relies heavily on being able to cultivate more traffic to your website. Yours may be the best looking site there is, but if no one's coming to it, what's the point?
While the world may be getting smaller, the Internet is quickly getting much larger, and it seems that everybody wants a piece of the pie.
The good news is that most visitors to the millions of websites, get funnelled through the rather narrow search engines to the various sites. This leaves the market far from saturated regarding a division of resources.
Therefore, there are still plenty of ways that you can successfully direct more people to your website. Let's look at these 5 simple ones:
1. Content, SEO, and Analytics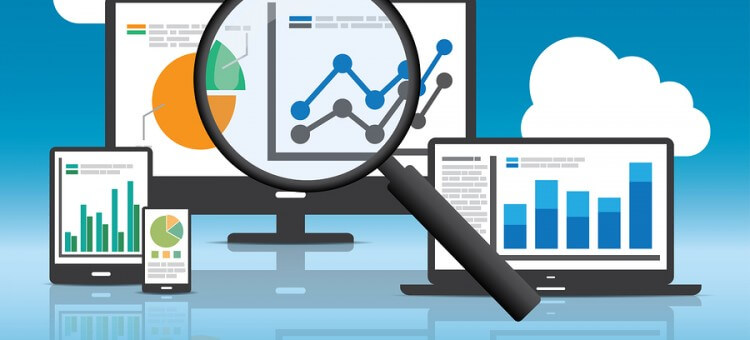 When it comes to driving traffic to your website, your first efforts must come from your own backyard. The first and most important rule for building an excellent foundation for driving more traffic to your site is creating unique content.
As a small business owner, you need to learn to fully appreciate the vast array of tools that are at your disposal for you to use to make your site a fantastic experience for visitors.
The first rule in content creation is that you need to diversify your content among as many of the media formats as possible. This includes textual, audio-visual, exclusively aural, and so on. Every business will require a specific skill-set to survive and ultimately succeed.
So, the first thing that you will need to do to start increasing your web traffic will be to isolate the specific skills that qualify you to succeed in your chosen profession.
Creating Content
When you begin to create the content for your site, you want to identify the styles of content that will benefit you the most. Determine whether the information you are trying to convey will be better discussed in a short video, or will it be better to create a podcast or textual article.
When it comes to the frequency of posted content, you want to make sure that you do so on a regular basis.
Nothing turns away an existing visitor base quicker than a stagnant website.
People are only willing to invest their time in a site that continues to develop and grow, rather than wasting their time on a site that seems to be dying out and heading towards the cyber graveyard.
Web Analytics
Beyond the kinds of content that you need to create, you also need to keep your eye on your website analytics. This is usually provided in-house through portals like WordPress, or through Google analytics for general internet sites. If you don't already have it, head to Google analytics to complete an easy sign-up process. Keeping an eye on the analytics of your website and tweaking your content accordingly will allow you to understand the tastes of your regular audience members better.
Happy visitors will always refer your site to those around them, which will result in an increase in web traffic to your website through word-of-mouth.
Search Engine Optimisation
Once you've determined the style of content that you are going to create and as you focus on the quality and frequency of the content itself, you need to start thinking about search engine optimisation, or SEO. Creating content that is SEO friendly is the easiest way for you to push more traffic to your site.
The first step to making sure your site is SEO optimised is by making sure that you submit your website links to the various search engine platforms. When you complete this step, it allows Google's crawlers to index your site and display it within their search results. This can also be done for the other search engines like Bing and Yahoo.
Once you've submitted your website to the search engines for indexing, you'll need to begin performing SEO on all of your current site content, as well as keep its basics in mind for the content you create in the future.
Search Engine Optimisation is a highly competitive field. It is a combination of art and science, linguistics and anthropology. It's the ability to understand the mind of your customers and determining a list of possible keywords that they might use to get to the topical content that you provide. Properly optimising your website content with SEO and keeping a close eye on the web analytics for your site is the first step to boosting your website traffic.
SEO is a never-ending game between you and search engines. Get some useful DIY SEO tips here.
ADD_THIS_TEXT
2. Social Media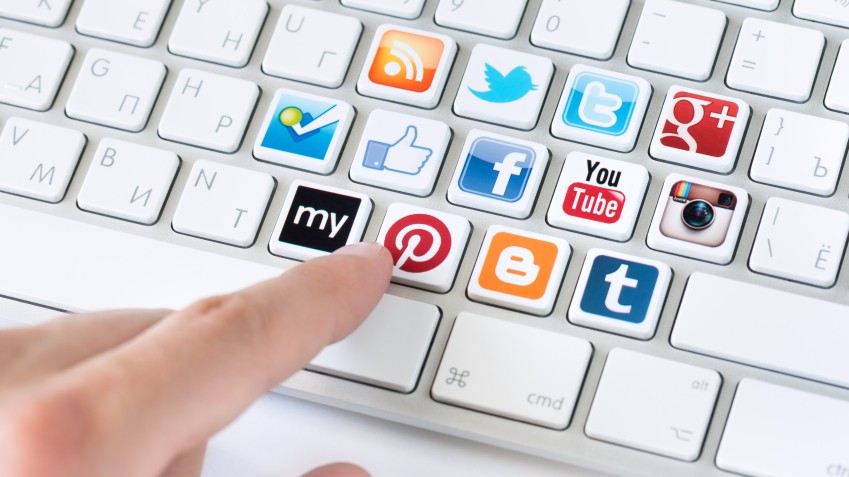 Social media has become the best way to advertise your business or website. Sites like Facebook and Twitter allow you to interact with your audience. The first step to utilizing social media and drive more traffic to your site is to make yourself visible on the various platforms.
Facebook
If you don't already have a business page on Facebook, this will be your first step to increasing your visibility on the site. Along with enlisting your employees, you'll also want to have willing customers like your page.
Once you've established your Facebook business page, make sure that you provide information on your website that will inform potential customer or visitors of your page. With the number of people who get on Facebook every day, it has quickly become one of the main avenues for new media advertising, which you can efficiently accomplish through its paid advertising programs that would feature your business across a broad range of people in your targeted demographics.
How to Establish Effective Posts on Facebook
Running your own Facebook post requires being able to create posts that are sensible and easy to read. The posts that you produce must include extensive detailed information that relates directly to your business.
One part of creating useful posts on Facebook entails getting messages that not only grab the attention of your visitors but also that make them want to share your words.
Tell Stories
Some of the best posts that you can add to your Facebook page are stories. You can talk about anything that you want as long as it is unique and relevant to your business. Tell unique stories that relate to your business and let people know what makes it unique. The best stories will always be shared with others.
Work with Trending Topics
The Facebook search algorithm rewards people who talk about trending issues. Favourite topics are highlighted more often because people are more likely to search for or have a stronger demand to discover.
When you discuss trending topics, it becomes easier for your business to get noticed. You will show that your company understands the trends and interests of today.
Talk About Business Decisions
Today, people appreciate transparency, and it has become an essential aspect of running a business. Consumers prefer to do business with companies that are open and direct about what they want to do or promote. Customers appreciate companies that are willing to talk about what inspires them and the reasons they decided to start a business.
Use Unique Media
When you use unique media files, you show your audience that you have a great plan in mind for your company. They will realise that you are creative and inventive while remaining open-minded. Using the same kind of image that everyone else utilises is not always the best option as it merely shows repetition.
Twitter
The primary advantage of using Twitter to increase your web traffic is that it is widespread, and the character limit caters to the atrophied attention span of today's youth. Twitter allows your business to interact with others in short and witty bite-sized texts while keeping up with the more significant trends and concerns on social media in a concise way.
Getting the Most Out of Your Tweets
The messages that you post on Twitter are vital to your success with the platform. It is essential that you create thoughtful, unique, and appealing messages.  More importantly, when people trust your work and your words, your tweets are more likely to lead to extra followers and more traffic to your website.
Be Creative
The most popular Twitter feeds are the most creative. They might involve funny anecdotes, how-to information, thoughtful quotes, or anything else that an audience might find interesting.
Stick with One Style
Take the time to think about how you are going to post things on Twitter. Do you want to take a light-hearted approach? Would you rather be straightforward with the public? Whatever you decide, you need to determine the attitude and style you want to follow and stick with it for as long as possible. Be consistent with all of your posts on Twitter.
Be careful not to shift your style and attitude on a whim because it might end up confusing your audience.
Stay Transparent
Like with any other social media platform, it is important to remain fully transparent when talking to your audience. People will appreciate when they hear from you and will see how direct you are with them. They will retweet your message and add to your exposure.
YouTube
Another highly valuable option for boosting your web traffic is YouTube. In fact, the site has become extremely popular recently thanks to how it highlights videos of all descriptions. YouTube can be an incredibly valuable tool for your business.
Making the Most of YouTube
YouTube is great for social media campaigns and driving more traffic to websites. To get the most out of your efforts, you must make your videos appealing while also standing out from the crowd. More importantly, you must make your promotional channel more intriguing.
This will help to bring in more subscribers and an increase in visits to your site. There are a few special techniques for getting your YouTube videos to be easier to read and more dynamic.
Get Verified
To get the most out of your YouTube Account, you need to get verified. A verified account will give you more access to more functions on the site.
Use Custom Thumbnails
When you begin to use YouTube, you will have the option to work with random thumbnails on each video. After some time, you can be approved to work with custom thumbnails.
Create a Channel Trailer
A channel trailer is a video that you upload that is played on your channel page when someone who has not subscribed to your page comes across it. The video is set up to playback automatically. You can create any kind of video for your trailer, but it's best to use one that illustrated what your business is all about.
Creating Playlists
You can create playlists that highlight everything on your channel that is similar in some way. With a playlist, you can share information in a series of organised videos.
Using Captioning
If for whatever reason, someone needs to use captioning on your video, all they must do is click the proper captioning icon on your video, and a series of captions will appear at the right moment.
Add Calls to Action
You need to include plenty of calls to action around your YouTube page and videos. These can consist of calls to encourage people to visit your website or even your place of business.
It is fundamental for you to interact with your viewers through your videos and other features if you want to boost traffic to your site.
3. Websites, Guest Blogs, and Forum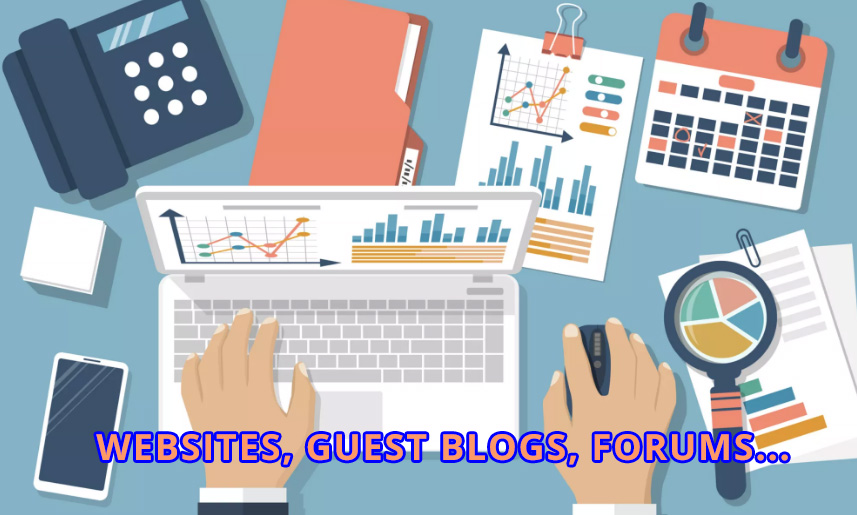 While these may be a bit more time-consuming as methods for boosting your web traffic, when compared to others discussed, they pay a steady long-term return long into the future.
Commenting on Competing Websites
To make the best use of competing websites, you want to make sure that the comments you make are meaningful and add value to the topic that is being discussed. When you do make a meaningful comment, make sure to add a link to the content on your site that will add value to your point or broaden the scope of the topic at hand.
Commenting on Relevant Forums
Since the forums differ greatly regarding topical interest, it may take a while to find a discussion that works for you, especially if your business in highly niched. One recommendation in this regard is to find a sub-Reddit that is relevant to your content or business, contribute to the discussion and post your links.
Submitting to Stumble Upon
Although you may not think that is method will work, you will be shocked to learn that the number of visitors to your site could increase by thousands once Stumblers begin to show up on your site.
Guest Blogging
Along with distributing links and utilizing social media platforms to drive traffic to your site, another easy way to increase your visitors is by collaborating with other, more established cyber personalities. The easiest way to do this is to offer to contribute guest blogs to other sites.
4. Email Marketing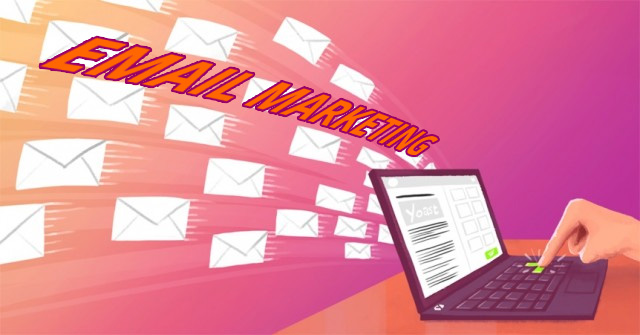 Email marketing is a way to communicate with your customers by sending promotional messages directly to their inbox and give them a call to action to respond to your campaign.
Bulk Email Campaigns
Bulk email campaigns typically deal with purchasing email lists from organisations and sending mass emails containing excerpts, commercial advertising, newsletters, offers, and promotional material to the people on the list.
Opt-In Email Campaigns
The second way to utilise email marketing is through an opt-in marketing campaign. While this approach requires more time and effort, it has been shown to be considerably better suited for businesses and performs better than bulk email. Opt-in marketing means that when visitors previously viewed your site, they filled out and opt-in to join your regular subscriber base.
Advantages of Email Marketing
First off, email marketing is an inexpensive option because it costs significantly less per customer to generate than other marketing strategies.
Email marketing campaigns have been shown to provide a high return on investment, (ROI). This is partly since the average cost per customer is so low.
The flexibility of email marketing also has a significant impact on increasing traffic to your site because targeted email marketing allows you to personalise campaigns for your customers.
Finally, an email campaign allows you to easily track every opened email, every click, every email that is shared right through to the sale.
Best Practices for Success
Around 90 percent of the visitors to your website will leave without buying something from you on their first visit. However, by creating an attractive and compelling opt-in offer, you can at least get their contact details.
Offer Free Valuable Information
One of the best ways to develop a relationship with your potential customers and establish credibility is to offer free valuable information when they provide you with their email address.
Announce Regular Specials
If you want to encourage repeat customers, announce specials on a regular basis.
Host Exclusive Customer Only Events
If you own an online business, you can create a page on your site that is accessible only to customers, and then send them an email telling them how to take advantage of the specials you advertise and post on that page.
5. Paid Advertising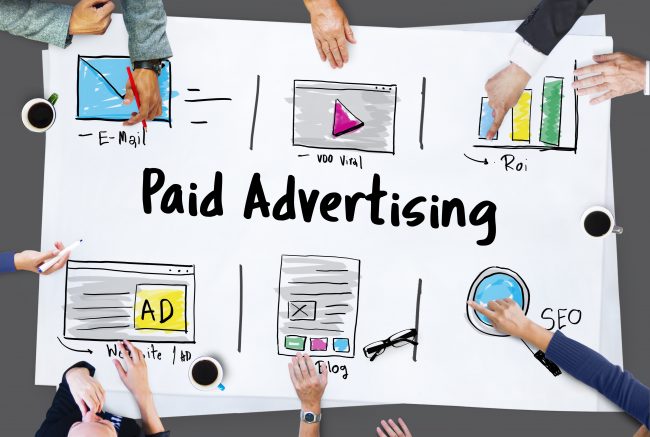 Paid traffic is a results-driven strategy that, when used correctly, can blow the lid off your ROI quickly while having the potential to explode your business more rapidly than you ever thought possible.
Pay Per Click – PPC
PPC is one of the most popular forms of paid advertising, and it is not likely to be going anywhere anytime soon.
Pay per click advertising is an online auction-style process where a company bids money against other advertisers to have their keyword-targeted ad listed on certain websites. The company then gets charged when someone clicks on their ad, regardless of how many times the ad was seen.
There are two main types of PPC advertising.
PPC search allows a text ad to show at the top or side of the search engine page.
PPC display shows ads that are influenced by the advertiser's targeting selections.
Pay Per View – PPV
Also known as cost-per-view, your offer only appears on the screen of your pre-qualified audience when they visit a particular website that you are targeting. This allows you to get your website in front of large crows without even trying to sell them to click on your ad.
Facebook Advertising
There are two primary categories of Facebook ads, sponsored stores, and ads. Ads appear on the right sidebar of the page and in the newsfeed. Sponsored stories are shown to friends of a fan who interacted in some way with your Facebook page.
YouTube Ads
For YouTube, AdWords works a bit differently. You spend the money every time someone clicks on your video or watches the video. The videos and ads you produce will be displayed based on the keywords that someone uses to search. The amount you spend will wholly depend on how many people click on your ad.
Paid Advertising on Twitter
With the right strategies and by taking advantage of trends, you can make yourself more visible on Twitter without spending a dime. However, sometimes you may need a little bit of help to get recognised. After all, there are millions of tweets getting posted every minute of the day. This is where paid advertising can help.
ADD_THIS_TEXT
Conclusion
While there may be many reasons why you want more visitors to your website, the bottom line is that the Internet is a vast playground. Remember, there are more than enough visitors to go around, so long as they know that your company exists.
When you first begin working toward boosting traffic to your site, the results may gain momentum far too slowly for you to appreciate the effort that you've put in. However, with patience and perseverance, you'll soon and surely be hit by a rising tide of an increased viewership base.
Just keep at it!