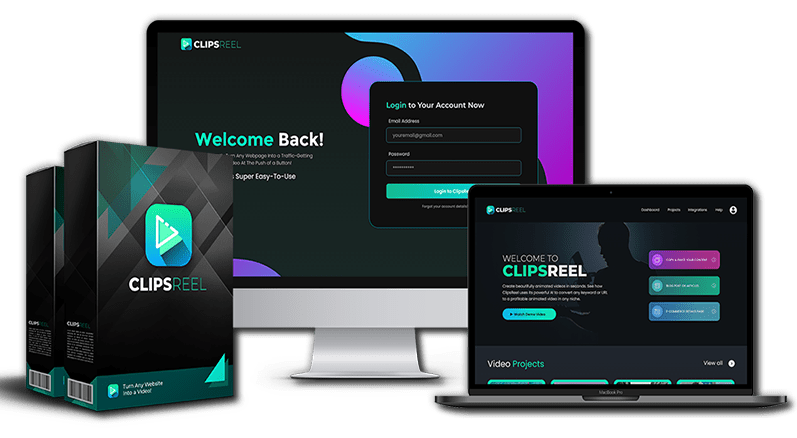 ClipsReel is a one-stop-shop for creating stunning animated videos using your blogs posts, articles or any webpage. It helps you create amazon affiliate review videos, marketing videos, promotional videos for your blog posts, tutorials, course videos, VSLs, sales videos and so much more.
ClipsReel turns any URL into a video using machine learning & their adaptive a.i. technology, within minutes with 100% customization. It makes it super easy for you to start creating stunning videos easily for your businesses. It's great for marketing as it goes viral and can turn traffic into sales.
(I have just put them systematically into simple legible blocks for you),  so if you wish, you can skip it all and click the 'Get Instant Access' button below and go straight off to the sales page.
However, do scroll down if you want to see the extra NAGS' BONUSES you get when you buy this from my link here below.
What Problem does ClipsReel 2 Solve?
Not having a video for your marketing online is like taking an arrow to the knee! 
BUT  – Video creation isn't easy or fast! 
Of course, there are about 10 different kind of video creation software that do pretty much the same thing, with just a few extra things here and there.
However, what users want is the ability to quick and easily create a professional yet gorgeous looking videos for their marketing, without spending hours designing, editing, recording or a fortune on them.
No one has time to write a video script, create a storyboard, create animation (even if its point-n-click) or design all those other video elements.
What they want, is the ability to easily turn websites, blog posts, amazon products or Shopify links into a stunning, professional looking video with the option to add their own logos, branding and add their message – a video they can use for marketing, promotions, generating traffic…or for ads!
That's exactly where ClipsReel comes in.
ClipsReel makes it hands-free for anyone to turn their (or any) blog posts, article, webpage, amazon products, Shopify pages or any content piece into a stunning looking video automatically, saving users tons of time, effort and money.
ClipsReel uses a well-trained A.I. models to create videos. The A.I. improves itself automatically every time a video is created, hence when a user tried to create a video using the same URL used earlier, ClipsReel understand it and tries to create a unique NEW video every single time.
What are the Benefits of ClipsReel 2?
Great For Marketers, Coaches, Online and Offline Business Owners, Ecom, Affiliates, YouTubers, Social Media, and More!
Stack Your Profits By Creating In Demand Videos Quickly
Turn any URL, Blog Post, Amazon, Shopify, eBay or Walmart Page into Video
Build Profitable Email Lists Fast By Offering Videos The Market Craves
Skyrocket your traffic & sales for affiliate promos using A.I. generated videos!
No Fussing With Hard To Use Software. Newbie and Beginner Friendly.
Use This To Help You Generate A Ton of Leads and Sales
Limited Time Bonuses Included At No Extra Charge
Who is ClipsReel 2 Recommended for?
ClipsReel can help every type of online entrepreneur in their business…
Who is/are the Vendor/s for ClipsReel 2 ?
Abhi Dwivedi has been an online marketer and software developer for over 14 years now, with multiple six figure product launches and webinar promos. In the past few years he's had over 30 Best Seller software products with 10,000s users actively using and benefiting from his plugins, desktop apps and web apps.
His products deliver real life results and his support team is available 24/7 to help you achieve more.
What his partners say about him
What are the Steps for ClipsReel 2 ?
Does ClipsReel 2 have a Demo?
Check out this demo for ClipsReel 2
Is there any Proof of ClipsReel 2's Results?
Check Out These People That Are Getting Tons of Visitors & Making Thousands (Some Millions) With Video
Does ClipsReel 2 have any Bonuses
Fast Action Bonus #1: Advanced Analytics & Reporting
Fast Action Bonus #2: Free Cloud-Storage for Videos
Fast Action Bonus #3: TikTok Traffic Generation Training
Fast Action Bonus #4: WP TubeLeads – Commercial
Bonus #1 – Whitelabel License to VidNeos AutoVideo Theme
VIDNEOS THEME takes all the guesswork out of Video Blogging and does all the heavy lifting for you, while making you tons of money from the massive video traffic that your blog will attract.. Create UNLIMITED Content Rich, Self-Updating & Auto-Traffic Video Blogs, In Minutes Without Ever Creating a Single Video!
Bonus #2 – Whitelabel License to CurationNeos Desktop App
CurationNeos allows you to turn other people's red hot content into your own unique, traffic-getting content in seconds! In just seconds, you can create your own unique, curated content that you can use to rake in daily free traffic from social media, Google, in your emails, and more!
How to Collect Your Bonuses
Please put in a ticket at Nag's Support with a copy of your purchase receipt/s for any Bonuses you didn't get, or
Send an email to 

[email protected]

 with a copy of your purchase receipt/s
Is there a Funnel for ClipsReel 2?
Here is the Funnel for Clipsreel
What are the Upsells for ClipsReel 2 ?
The Unlimited upgrade supercharges the ClipsReel app and unlocks access NEW templates and removing any and all limits of video creation. Unlimited upgrade users will get access to the brand new ReelMerg feature to join multiple videos to create longer videos, TrimReel feature to create square or stories style videos, Instagram/TikTok Sharing features, Ability to create unlimited videos, create FHD Videos, Priority Video Rendering, Account Manager + Priority Support and a special.
With the ClipsReel Professional, users unlock powerful professional features to take their video creation to the next level. They unlock access to 3 professional features and over 12 video use cases using the professional upgrade, including International Voice-Overs – 20 Different Languages, Professional Voice-Overs – 50 New Voice Accents, 1-Click Multi-Lingual Video Translation – 100+ Languages, Photo Video Maker, Facebook Video Maker, YouTube Video Maker, Instagram Video Maker, Instagram Story Maker, Promo Video Maker and so much more.
With the ClipsReel Agency, users will get full business features including agency-Whitelabel branding, custom done-for-you professional looking Video Creation Website with custom checkout. They also get 6 Stunning & Compelling Video Commercials to promote their video creation agency, Team & Virtual Assistant Access, Clients Access, DFY Client Contract Templates, BusinessFinder feature and 100+ Facebook Ad Templates.
PlayerNeos is a cloud-based interactive video creator that helps turn any ordinary video into a sales machine. Using this your customer can add buttons, menus, buy now buttons, optin forms, new custom thumbnails, logos, watermarks and even auto-play the video on any browser. They can also find other high-traffic videos and piggyback on them with their optin/buttons added.
Sonority is a cloud-based voice-over and music-track synthesizer app that lets you create audio tracks for your videos or podcast. Sonority lets you pick from over 15 different voice-over articles, copy-paste your text and convert it into a human-like voice in just a click. Sonority lets you pick from 1000+ A.I. created music or gives you the ability to create unique music tracks for your videos using A.I. on complete autopilot, without being a musician or artist. Simply pick the type of music you like from 15 different categories and the A.I. will automatically create it for you. Finally, you can use Sonority to mix and merge multiple different audio files (voice-overs and music both) into an audio track for your videos, podcast, courses and more.
Does ClipsReel 2 have a Refund Policy?
14 Days Money Back Guarantee
See for yourself how simple and easy it is to create videos for any scenario and any market.
Use these videos to build your list, bolster your paid ads, enhance your marketing, or just boost your business in general.
If after 14 days, you don't feel that ClipsReel lives up to its name, then do contact their support desk immediately.
If their team cannot help you resolve the issue, they'll gladly issue you a prompt and courteous refund per their refund policy.
FAQ – Frequently Asked Questions for ClipsReel 2
Do I need to have special technical skills to use Clips Reel?
No. While you will need to know how to operate the basics of a computer, (clicking, using a mouse, etc) ClipsReel doesn't require a huge learning curve to master. We've designed it with beginners and non-technical people in mind.
Will I need to download any software for this to work?
Not at all. ClipsReel runs in the cloud. That means everything works on our highly secure ultra-fast servers. You only need to use your internet browser and have internet access to use the platform.
Is there a monthly fee?
Currently at the time of this special launch, no there isn't. However, that could and most likely will change in the near future.
Is there a money-back guarantee?
Yes. All purchases of ClipsReel comes with a 14-day money-back guarantee as per our refund policy mention below.
How fast can I create a video with ClipsReel?
This depends on how much you want to be involved, but it's really not uncommon for you to cut your video creation time from hours to only minutes. The A.I. does a lot of the work for you. You then decide what embellishments you want to add to finalize the video.
Do you have training videos to help me understand the software?
Yes. We have training provided to help you understand all aspects of the platform and to guide you on your journey.
If I get stuck, will you help?
Absolutely. If the answer isn't available via video, simply send a support request and we'll take care of you asap.