Amazon Associates is the most popular and successful Affiliate Program on the web. 
As a website owner or blogger, you can create affiliate links for any Amazon product. You will earn referral fees when a customer clicks through your Amazon Affiliate link and buy products from Amazon.
Amazon Associates is completely free to join and easy to use. You can earn up to 10% advertising fees with this highly trusted e-commerce leader. The wonderful part is that, very often, you land up make a lot of extra money from qualifying purchases too, not just the products you advertised!
But if you've shopped on Amazon, and who hasn't, you will know that there are thousands and thousands of products that you can buy there. How do you know which ones to promote and which to base your site on to make the most money? You know it should obviously be in a niche that's profitable, but you can't really decide on how any of your own interests might earn you the tons of money you are looking for!  Its not just enough that YOU find the niche exciting. It should be interesting to other people too and you don't even know whether a niche interesting to you will be a profitable one. So that's the real criteria – the niche should be one that makes you money, even if its something you know absolutely nothing about!
So let's see how to go about finding what's profitable to sell on Amazon and what's not!
Start with what Interests You
It makes sense to start with something that you like and that excites you, since you will obviously take more interest in those products, you will not find it simply a chore to write about these. This is actually true for any niche website. When you choose a topic that interests you, you will be able to put much more enthusiasm and energy and wit in your posts and they will make for more interesting reads for sure, than if you wrote a  post that you counted every 10 words to stop at 750 words, because that's what a "good" post should have. People will hate reading it as much as you hated writing it!
Let's say your passion was cars. Start with searching "cars" in the amazon search box. But that didn't get me anything, just showed me some toy cars. Notice that like google search, amazon also gives you options to choose from when you put a space after a word by auto suggesting certain words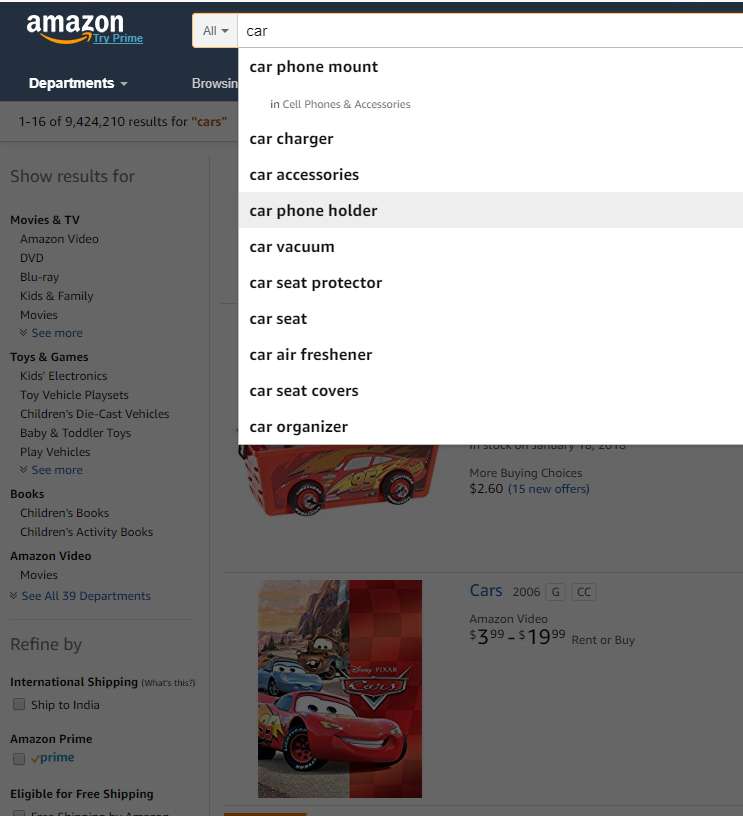 What do YOU find Interesting?
Choose a product that you find interesting and one you might use.
So lets choose Car Accessories, we'll get many options there I'm sure. Yes there are so many options available. I scroll down till I see a car vacuum cleaner.
Yes, that's a really useful handy thing to have – especially when you're kids take your car out every night and your service centre charges you a 1000 bucks to vacuum clean your car!!!
Ok I choose that one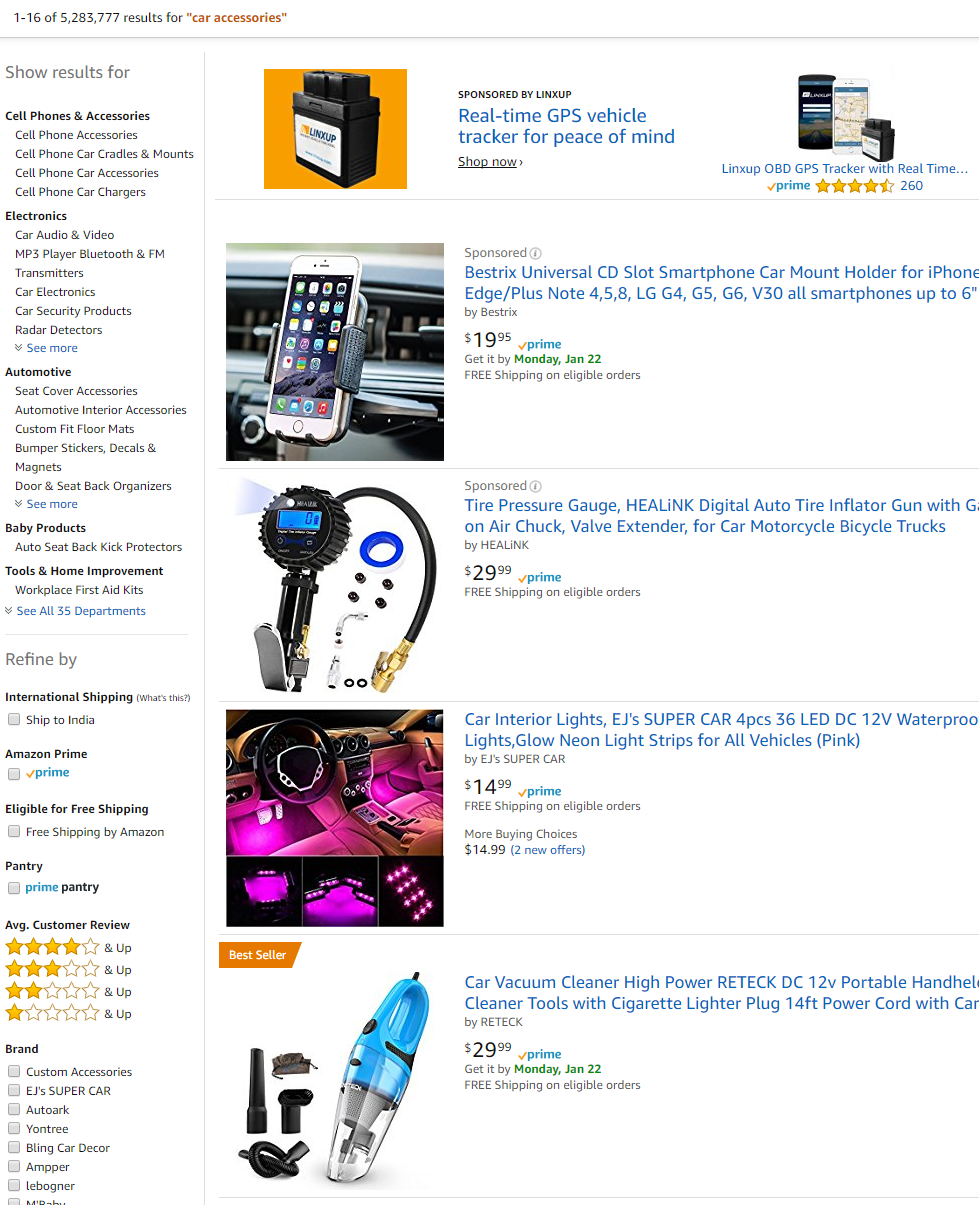 Now when you click on the product and go to that page, you find a band at the top showing you all the different sub-categories you can check out under car accessories.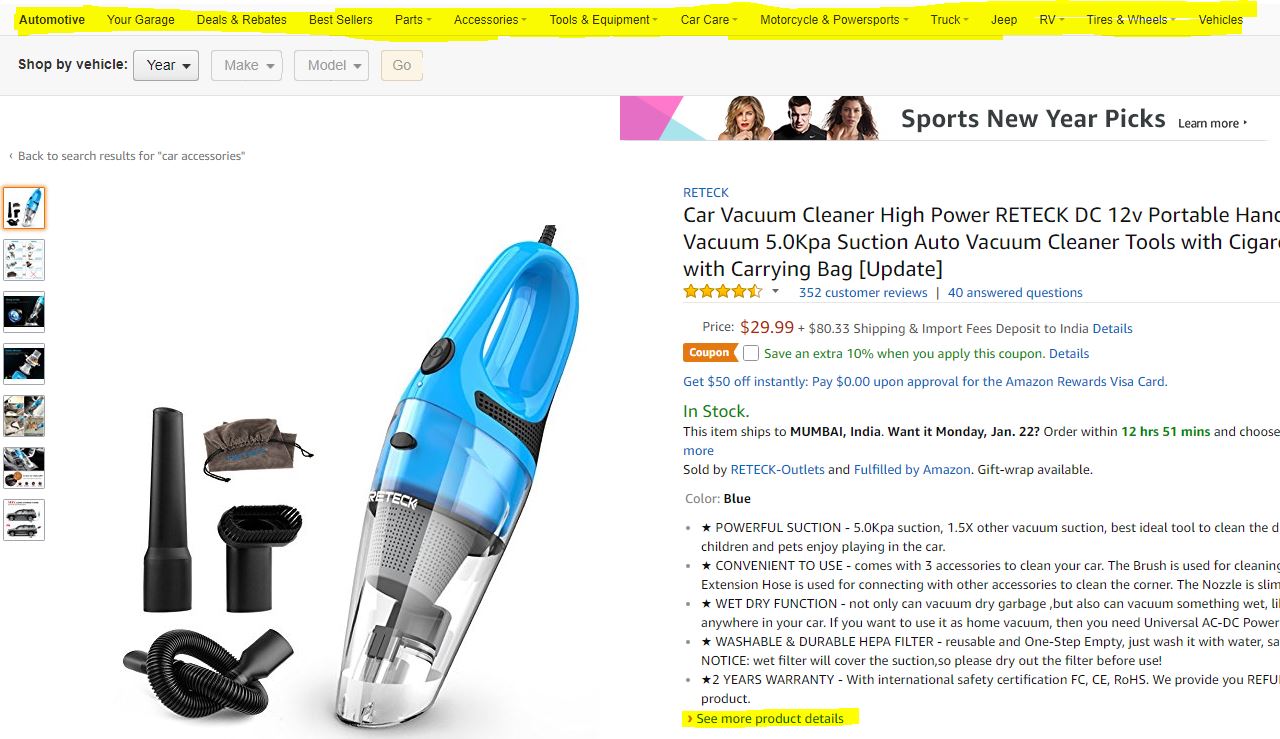 Profitability
Find the Category's Profitability on Amazon
At the end of the product description will normally be a link that says "See more product details". Clicking on that takes you to (obviously) more details about the product 🙂
What I want to show you here is the section on "Best Sellers Rank". If you see the top category for this, which is automotive, it is ranking 416, which means that only 415 products are ranked higher for the top order category in this niche.
That's really awesome considering the number of products that amazon must have in it.

Lets see how many they have : 5,274,271 results for "Automotive accessories" Gosh that's insane….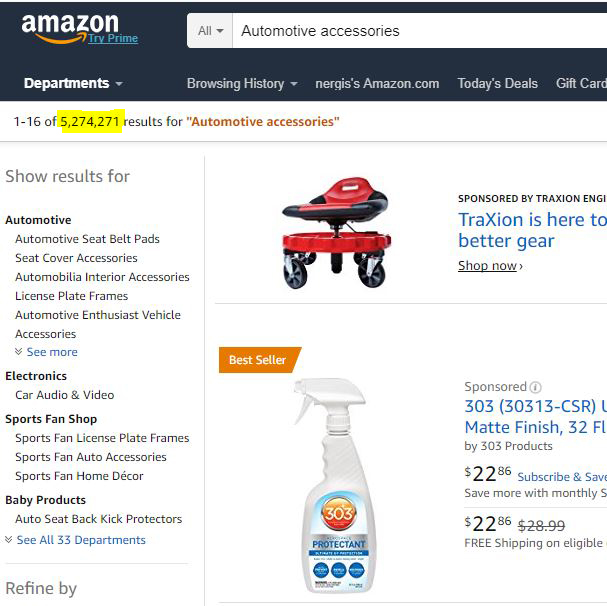 Amazon Best Sellers
Check the Best Sellers Rank from Amazon for the subcategory too
You can see how this particular product has watered down to the sub category of Automotive > Car Care > Interior Care > Vacuums.
This also shows what rank the product holds under that sub-category. This product is 1st on this list!! We chose a good one! Maybe there aren't too many Car Vacuum Cleaners listed on amazon… Lets put that in the search box and check. Here's what we found.
There are 28,714 results for "Car Vacuum Cleaner"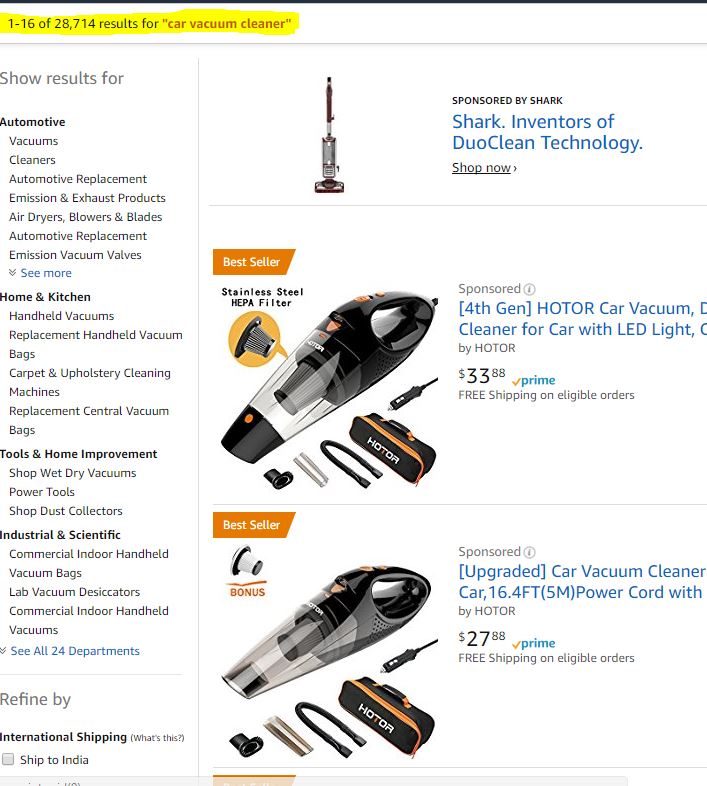 Different marketers have different measures to rank on the numbers, but I think everyone agrees that the overall ranking is definitely important.
Keep this Pro Tip  in mind when your searching for niches.
Pro Tip : See that you do not base your research on seasonal trends, because these will come and go. Concentrate on stuff that has the strength to stay stable over time.
Sub Category Test
See if many products in the sub category pass the test
Let's check to see if this product was one of or whether others in this sub category too fit the bill. Clicking on the subcategory "Vacuums" takes us to a page with the top 100 products under 'Vacuums' You can click on each one and check the rank for the product in the top category of 'Automotive'. If you find that many of these are within the top, say 5000, under 'Automotive', then yes, you have a winner here! It means there are plenty of people buying these. Lots of kids taking the car out at night with friends I guess 🙂  Here's what our results showed for the top 10 vacuums
416
2486
2447
3002
5407
5435
5511
3744
5269
5275
Ideally I would have liked them all to be under the 5000 mark, but these are still pretty acceptable. Sometimes you won't get so lucky and find a dream niche in the first go. Don't worry. Try again. And again. You will find your profitable niches believe me!
How would you like to have a FREE Report on 15 Weird Niches that you can use for your amazon affiliate sites?
[grwebform url="https://app.getresponse.com/view_webform_v2.js?u=B24WN&webforms_id=19657403″ css="on" center="off" center_margin="200″/]
Today we have only spoken about Niches. Going to products, there are many criteria you need to check while choosing the correct products to promote. Next I will write on How to Find the Right Products for Your Amazon Affiliate Site.