WordPress was introduced in May 2003 by Matt Mullenweg and Mike Little. It started as, and still is, an open source program that has evolved progressively over time and is greatly supported by talented developers, designers as well as laymen bloggers. WordPress provides the opportunity for anyone, whether you are a software engineer, an passionate chocolatier or a Digital Marketer wanting to blog about Affiliate Marketing, to create and share content.
Some WordPress Stats
WordPress is licensed under the General Public License (GPLv2 or later) which provides four core freedoms, considered as the WordPress Bill of Rights
The 1st Freedom – To run the program for any purpose.
The 2nd Freedom – To study how the program works and change it to make it do what you wish.
The 3rd Freedom – To redistribute.
The 4th Freedom – To distribute copies of your modified versions to others.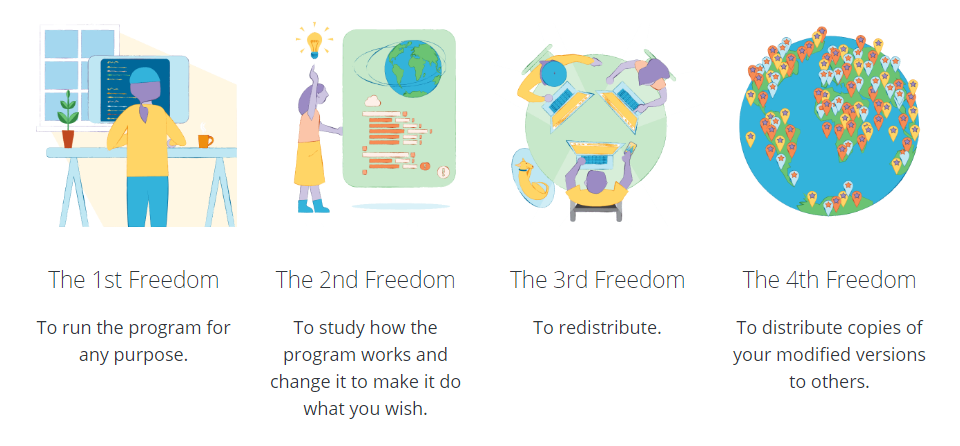 Source : https://wordpress.org/
WordPress' Market Share
Today WordPress powers 32.0% of all the websites on the Internet. That includes the ones without any content management system (CMS) or ones with a custom CMS. If you only look at websites with known CMSes, WordPress' market share becomes even larger at 59.5%.
Let's compare some data regarding WP's market share to the market share of other popular content management systems
[table id=12 /]
Source : https://kinsta.com/
And check out WordPress' overall market share since 2011
[table id=14 /]
Source : https://w3techs.com/
Let's also look at some charts that show us what sorts of systems people are running WordPress on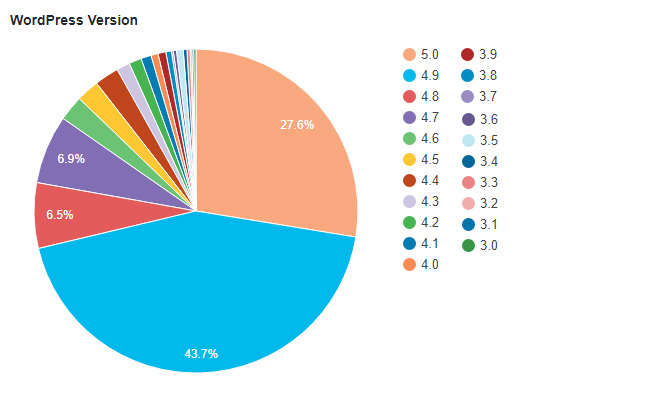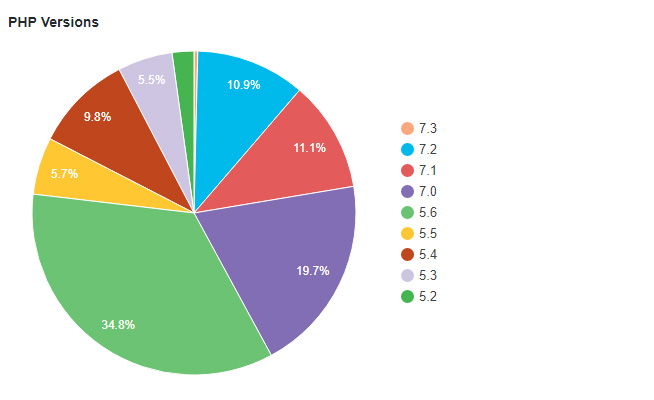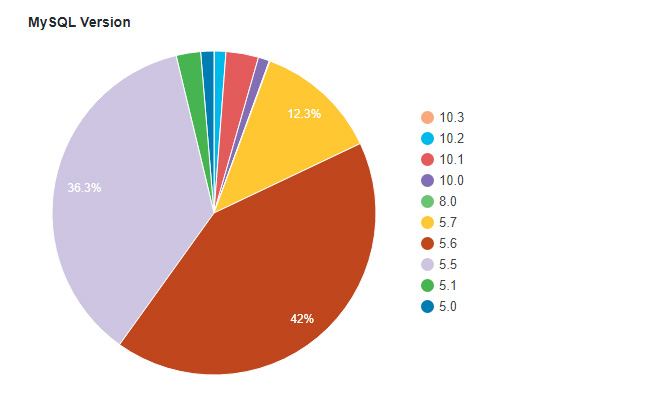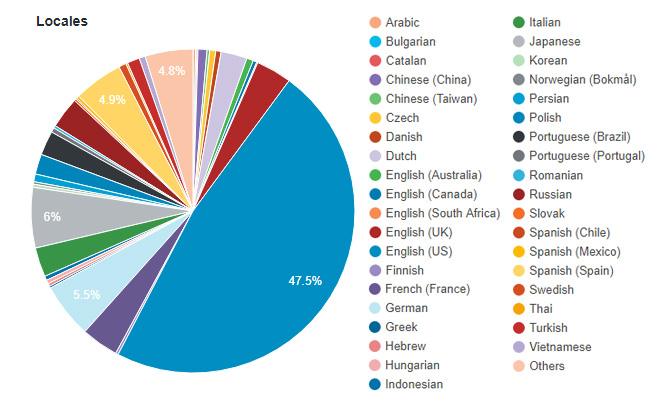 Source : https://wordpress.org/
Top 25 WordPress Hosting Providers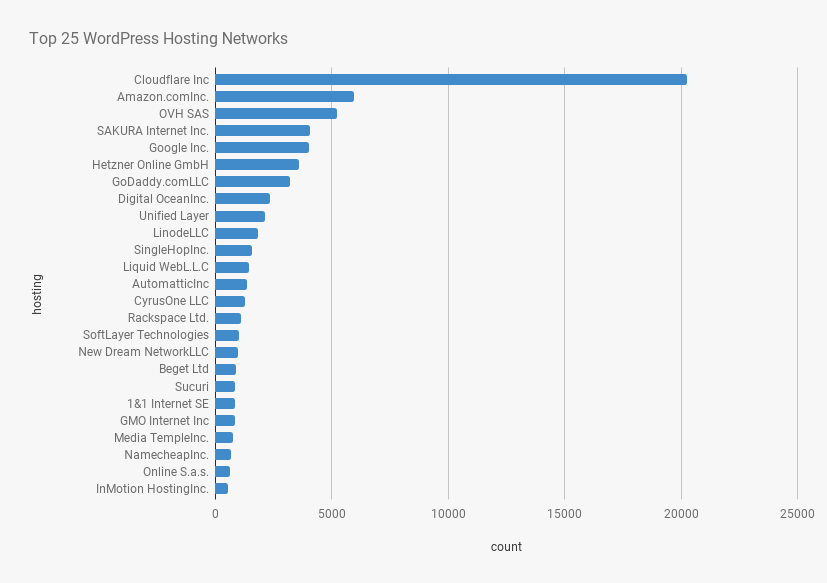 Source : https://hackertarget.com/
Top 25 WordPress Themes Used
Source : https://hackertarget.com/
Top 25 WordPress Plugins Used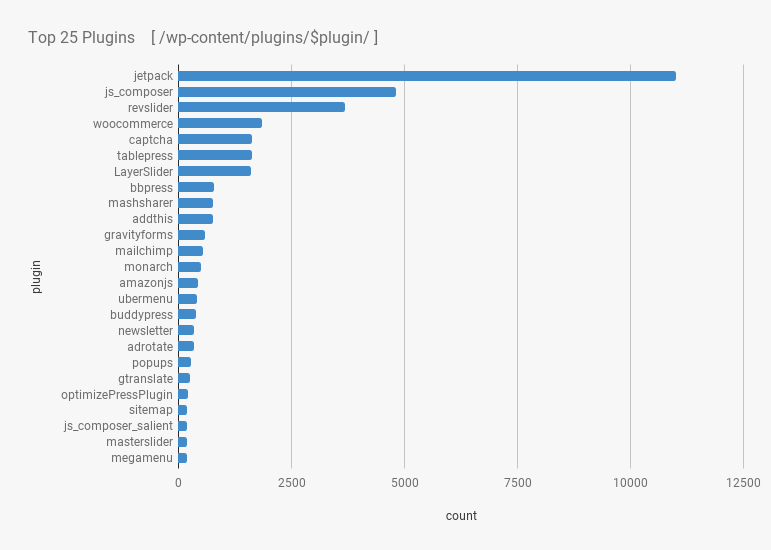 Source : https://hackertarget.com/
WordPress.com Vs. WordPress.org
WordPress.com and WordPress.org are not related. WordPress is a registered trademark owned by the WordPress Foundation, which is why people confuse the two terms. Also, Matt Mullenweg, who is the co-founder of WordPress, is also the founder of Automattic which owns the hosting service, WordPress.com. The WordPress Foundation is an NGO and it's function is to make sure that WordPress is freely available, maintained, and developed.
What is the difference between WordPress.com and WordPress.org?
Despite the same name, WordPress.com and WordPress.org are NOT directly related. WordPress.com is a proprietary blog hosting solution, owned by Automattic which was founded by Matt Mullenweg
WordPress.com
WordPress.com  is a proprietary blog hosting solution with limitations. WordPress.com does use the open-source WordPress platform. They also do not have the freedom and flexibility like WordPress.org to upload plugins, custom themes, etc unless you pay high premiums for the same. Many users use WordPress.com to get started, and then migrate over when they realize that they will get more features, functionality and control of their site with WordPress.org.
WordPress.org
WordPress.org is the official WordPress platform. It is the most popular open source Content Management System (CMS), which started just as a blogging platform, but today has evolved into a powerful publishing platform, far beyond simple blogging. Self-hosted WordPress.org is free for anyone to download, use and distribute in any way they like. There are plenty of free themes and plugins that you can use on your self hosted WordPress site and loads of premium ones too if you can afford to pay for them.
Which one is Better?
Personally, I think WordPress.org is the better choice and would recommend users to use the self-hosted version of WordPress any day.
It is very easy to install WordPress, plus you have full control over your own website. Most web hosting companies offer cPanel with your hosting, through which you can do a 1-click install of your WordPress site. Even if you are a complete layperson, you can start off blogging with the default WordPress theme that comes installed. Once you are a little more familiar with the software, you can add plugins, themes, widgets and customise your site the way you want.
There are also plenty of free and paid tutorials available for practically every little aspect of WordPress. You also will find it very easy to get WordPress support online on the various forums, and should you need freelancers or permanent developers, there are tons of them to choose from.
What are the benefits of using WordPress?
WordPress is the most popular open source Content Management System (CMS) today and is used by approximately 75 million websites. There are many reasons that people prefer WordPress to any other CMS available in the market. Some of the features that make WordPress a pleasure to use are these:
Totally Free
WordPress is free to download, install and upgrade. All you need is a domain name and some web space to host your site. Most hosting companies today offer a 1-click installation of WordPress that can be done by anyone. This platform does not charge even a penny for its usage. It is open source too which means you can alter or improve its source code in a way how you like to customize your website functionality or its appearance.
Easy to Setup
WordPress is used by people who may not have any idea how to code. You can choose a theme, experiment with different features and you have the site online in no time. It does not matter what business you are in, your website is the online representation of your brand in front of audience, so it needs to be something different from your competitors and the best. Choosing the right platform to have a great website is important because it will decide the tools, customization options and speed of your website too.
Newbie Friendly
WordPress includes features for beginners, so that even a complete beginner can set up a basic site quickly with no knowledge of code or programming. This is not true of other Content Management System like Joomla or Drupal, where a certain amount of technical knowledge is required to set up a site.
Themes & Plugins
There are thousands of themes and plugins, both free and premium, that are easily available for WordPress. These help in enhancing the features and functionalities of WordPress sites without the need to have any technical or coding knowledge.
Widgets
Widgets are little pieces of code that are part of the WordPress theme which enhance the functionality of the site. Widgets match the overall theme and so there is no need to make any additional tweaks to css etc to start using them, saving a lot of time and work. All popular themes include custom widgets and they also include plenty of options to place them, like in sidebars, footer, header or even within the content.
Menus & Navigation
Adding menus in WordPress is amazing. Unlike the conventional html website, you do not need to link pages individually to the menu bar or to each other. Everything works seamlessly once you create your menu. There are great options to create menus, and place them in various places like main navigation, top menu, footer menu etc.
SEO
WordPress is SEO Friendly. There are a host of plugins for optimizing it's site content for Search Engine Optimization (SEO), thus making its sites rank high for their keywords. Normally it takes a huge effort to do proper SEO for your site. But WordPress plugins for SEO make this task very easy, once you setup up the initial configuration on the SEO plugin of your choice. Word press makes use of standard compliance high quality code and produces semantic markup. This makes search engines like Google love this platform and this is one of the reasons why WordPress sites tend to have better SEO rankings than others.
Google Analytics
Normally, the Google Analytics code needs to be added to every page of your website, at least every page that you want tracked. In WordPress, this is again done very easily by adding your analytics
Safe and secure
WordPress is developed while keeping security in mind. The internet is a very uncertain place and there are always chances of your site becoming prone to cyber crimes, but that goes with every platform. The good thing is that to make your WordPress site more secure, you can follow certain simple precautions. You can choose to download top security Plugins. There are excellent free of cost options that will keep your site secure such as Wordfence Security.
Regular Updates
WordPress sites, along with the themes and plugins used are also automatically and constantly updated to the latest versions, which is what Google likes and this helps in higher ranking for the sites
Easy to get New Look
It is very easy to change the whole look and feel of a WordPress site, simple by changing its theme. Of course there are some essential things you must take care of before changing your theme, but once you know what to do, its a pretty simple process to change the complete look of the site
WordPress Can Handle Different Media Types
A website it is not just limited to text, but also has so many different files like images, audio, video, PDF files etc. WordPress comes with a good built in media uploader to upload different files. WordPress also supports embedded media from 3rd party websites which means you can embed YouTube websites, tweets, Instagram photos and much more by just adding the URL in WordPress post editor.
Responsive sites
One of Google's important criteria for rankings is Mobile responsiveness, so websites need to look good on any device. WordPress offers a variety of responsive theme designs, and users can also make a static site responsive with plugins and making suitable adjustments to its theme files. It's Mobile-Ready. No matter what kind of visitors you have, or what type of audience you are targeting, most people nowadays use their mobile instead of full sized computers for the sake of comfort and mobility. So if your site is not mobile ready you are actually loosing large portion of your potential users. If you want your website look good on any device WordPress enables that for you.
Blogging
WordPress has a built in blog feature, in fact it originally started as only a blogging platform.  This makes it very easy, even for sites unrelated to blogging, to add a blog section to the site and keep adding news, updates or announcements to the site on a regular basis. Regular updation of content is something Google loves and will reward your site with better rankings.
Scheduling
One great feature of posting on a WordPress site is that you can schedule your posts to any particular time and date in the future. So its very easy to write your posts in advance and then schedule them to go live at the time and date you want. Then, whether you are on your computer or not, your post will be published and visible to the viewers according to your set date and time
Support
WordPress, being such a popular and widely used platform, it becomes easy to find technical support in the online community as well as local or even freelance developers to help you with technical issues
Social Sharing
Social Media plays a very critical role today in branding, marketing and promoting your site. It helps your content reach maximum people as visitors share it with their networks. Facebook, Instagram, Twitter, YouTube, Pinterest, StumbleUpon and Reddit are some of the popular platforms where it is essential to have a presence. With WordPress, social sharing is often built-in to the themes making it very easy to incorporate this feature. There are also hundreds of plugins available to add separately, if you don't like the one that comes built-in with your theme.
Conclusion
These were some of the main reasons that makes WordPress the first choice for website owners as well as website developers.
Due to its robust features, many of the top brands use WordPress to power their websites including Time Magazine, Facebook, The New Yorker, Sony, Disney, Target, The New York Times, and more.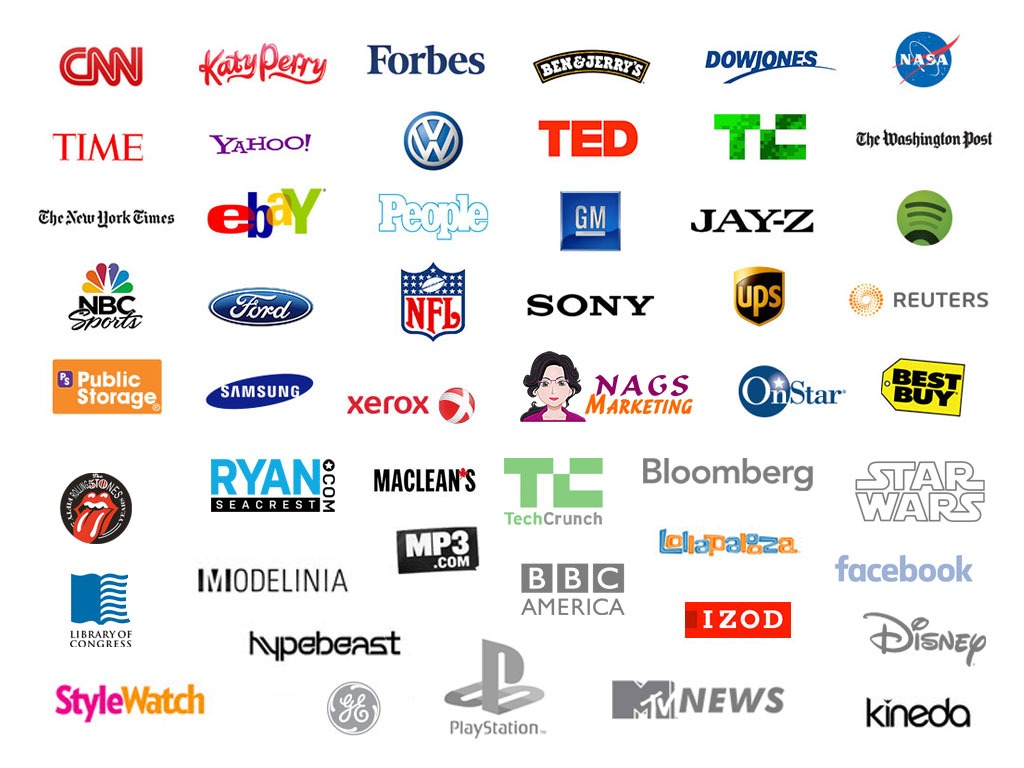 So what is your choice? What is your preferred platform when it comes to creating your website or blog?