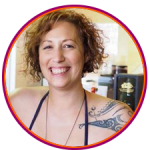 Cindy has been a full-time online marketer for more than 12 years. Cindy created her very first website more than nine years ago, mainly for the distraction that it provided her while she was receiving treatment for breast cancer, at the age of 29.
Since then, she's met many people who've dealt with their own personal life or death crisis. And many who've had a life-altering experience that's equally confronting, either a crossroads in relationships, in their work situation or like hers – a health challenge.
Cindy loves to create products and tools that will help people just starting out to avoid some of the common pitfalls out there – and actually start making money online faster and easier in a safe and nurturing environment.. Though her products are mainly WordPress based, she has also started recently building cloud based software products (SaaS).
Cindy likes to keep her software products simple and easy to use for the newbies. She is excited when her products help small business owners, affiliate marketers, email marketing list builders and blog owners to increase their earnings, build their list faster and generate larger affiliate pay checks.
In 2013 itself, she shared over $600,000 with the thousands of affiliates that  partnered with her. Today she is easily paying out twice that much to her affiliates and partners.
Here are some of her products