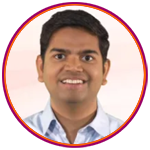 Paul Ponna is a super-affiliate and a top product creator with multiple seven-figure software launches on various platforms spanning eleven years.
He is the creator of many record breaking million dollar launches on JVZoo and ClickBank.
In his 10+ years of marketing, he has developed multiple award-winning software tools and had the good fortune of helping over 500,000 customers.
Over the last few years, he's developed some bestselling apps like VideoPal, VideoBuilder, VideoRobot, AnimationStudio and AutomationBundle.
Customer satisfaction is his #1 priority, he says.