There is a new update on how Facebook allows website posts to be shared on its platform.
Starting today, 1st August 2018, you cannot use third-party tools to share posts automatically to Facebook Profiles. Any social media tool that connects your site to major social media platforms, like Twitter, LinkedIn, and Facebook, cannot be used to share posts automatically to your Facebook profile.
How will this affect your ability to share content on Facebook?
Well that depends on whether you've connected your Facebook Profile to your website or your Facebook Page. If it's your profile page, then yes you won't be able to share your posts to Facebook. However, if you have connected your Facebook Page to your site, then nothing much will change, your posts will continue to show directly on Facebook via whatever tool you have been using.
The reason Facebook gives for this change is that, it is introducing this change to improve their platform and prevent the misuse of personal profiles. However by stopping automatic posting from WordPress to Facebook profiles seems to go against the concept of the open web, especially since it affects people's ability to interact with their network, unless of course they're willing to pay for that visibility.
What's the difference between a Facebook Profile ad a Facebook Page?
Not sure what the difference is?
This is how Facebook explains the difference between a Profile and a Page
A profile is a personal Facebook account where you can share information like your interests, photos, videos, current city and hometown.
Pages are public profiles that let artists, public figures, businesses, brands, organizations and nonprofits connect with their fans or customers. When someone likes a Page on Facebook, they can start seeing updates from that Page in their News Feed.
You must have a profile to create a Page or help manage one.
You can check out what your current social sharing settings are by going to My Site(s) → Sharing. If you've previously used any third party tool to connect a Facebook Profile to your website and you still want your Facebook followers to see your posts, you have two options.
First, you could do it manually each time – every time you publish a new post, copy its URL from the address bar and share that link in a new Facebook post on your profile newsfeed.
The second option is to convert your Facebook Profile to a Page. This might not be an agreeable option for many people, but if you have a business or a brand and a website that you use to build that business or brand, then this option might make the most sense, as you can focus on building your business, organization, or brand with your Facebook Page.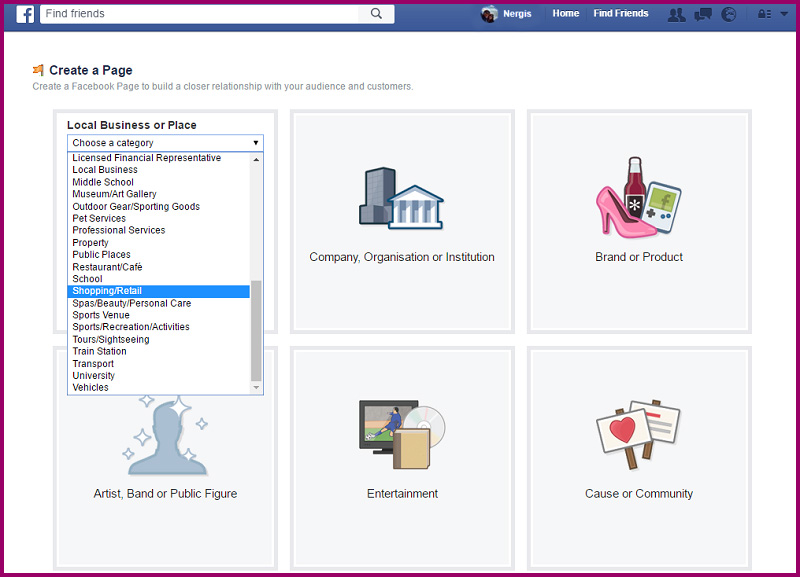 Why should you convert your profile to a Facebook Page?
It's against the Facebook Terms of Service to use your profile to represent anything other than yourself, like representing a business that you might be running as a free-lancer, for example. If Facebook thought that your profile represents your self run business, you could permanently lose access to your account unless you convert it to a Page.
If you're using your profile to represent a business, it would be beneficial for you to converting your profile to a Page for these reasons
Pages are designed for businesses and organisations. There are features available to you that could help you connect with your clients, target prospective customers and reach your goals
You have access to Page insights, where you can view important and relevant metrics, like, show you how many people engaged with your posts, and visitor demographics like age and location.
You can give access to your Page to other people, for example, to a VA to edit your Page
You can use more tools and share your content with a wider audience
You can create ads and boost posts through a Page
How do you convert your Profile to a Facebook Page?
Follow these steps to convert your profile to a Facebook Page
Go to Create a Facebook Page Based on Your Profile
Click Get Started and follow the on-screen instructions
Your new Page will automatically publish once the conversion process is finished. To change this setting, click to select Off next to Publish Page when done at the top.
What happens when you convert your profile to a Page?
Converting your profile to a Page creates a new Facebook Page that's based on your profile. Remember, you can only convert your Profile to a Page only ONCE!
When you convert your profile to a Page:
You'll have both a profile and a Page after conversion
Your profile picture and cover photo will get transferred to the Page, and the name on your profile will become the Page's name
You can select from your friends, followers and pending friend requests and add them as your new Page's followers.
You can choose which photos and videos to copy over from your profile, but keep in mind that views and other metrics remain with your profile and can't transfer to the Page
If you're converting a verified profile, please note that your verified badge will be removed from your profile, and you'll need to re-submit your new Page for verification
You can preview all changes before publishing your new Page
When you've finished setting up your new Page, you will be asked to check your privacy settings on your profile to make sure you're sharing what you want to share
Once your new Page is published:
Your profile's followers, friends and friend requests will get notified that you've created a new Page
The profile followers you choose will automatically follow the new Page and will be removed from following your profile
Friends and pending friend requests you select will automatically like and follow the new Page, and won't be removed from your profile
That's it. Not so difficult is it? So, take note, if you are using your personal Facebook profile page to post or promote your business or brand, be careful, Big Brother is watching and you might suddenly find yourself locked out of your own account. Move your profile to a page while you still can!