The Google URL Shortener, Goo.gl,  was launched way back in 2009 as a way to help people shorten long ugly link URLs and also to easily share those short links while tracking online the traffic stats for those links. Since goo.gl started, many other URL shortening services have emerged on the net. URL shorteners are particularly useful for shortening very long URLs to fit into messaging platforms with character limits, like Twitter.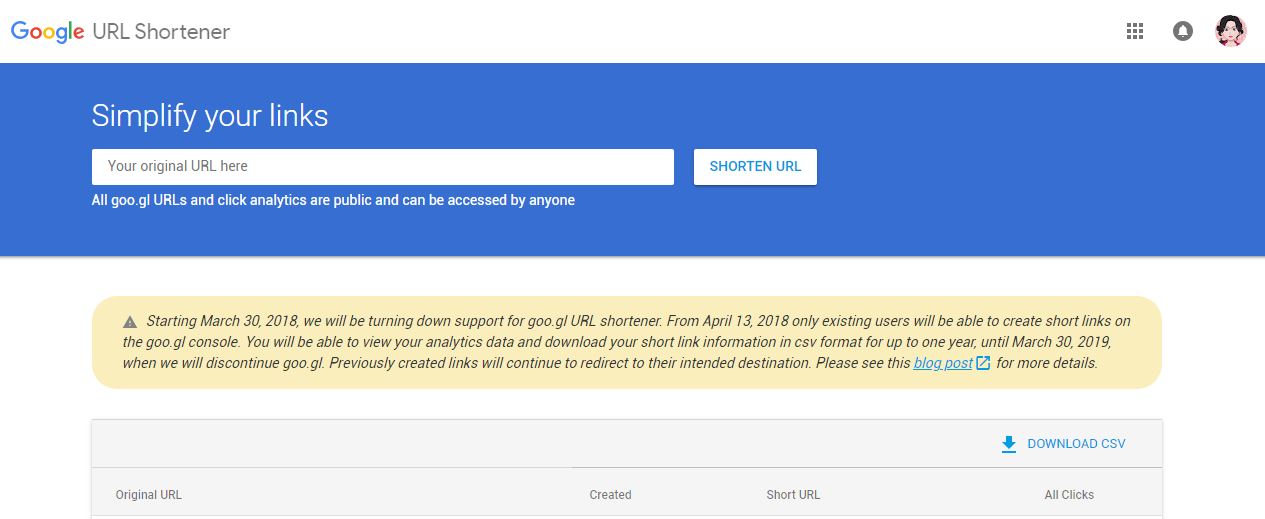 According to Michael Hermanto, Google's Firebase software engineer, the way that people search for content on the web has also changed dramatically, from primarily desktop website pages to desktop and mobile apps, hand held devices, mobile devices, and more. URL shorteners are particularly useful for shortening very long URLs to fit into messaging platforms with character limits, like Twitter.
Google has said that is turning down support for goo.gl over the coming weeks and will be replacing it with Firebase Dynamic Links (FDL) from April 13 2018.
FDLs are smart URLs that allow you to send users (existing and potential) to any location within an iOS, Android or web app. However they reasurred users that all existing links of goo.gl will continue to redirect to the original intended destination.
March 30 2019 is the deadline
From April 13, 2018, new users will not be able to create short links via the goo.gl console. Google recommended that they should check out other popular services like Bitly and Ow.ly as an alternative.
All users who already have existing goo.gl short links can continue to use all features of goo.gl console for a period of one year, until March 30, 2019. After that, although Google will discontinue the console, all existing links will continue to redirect to the redirected destination and users will be able to export their link information from the goo.gl console. However, the existing short links will not be migrated to the Firebase console.
For developers, starting May 30, 2018, only projects that have accessed URL Shortener APIs before today can create short links. To create new short links, Google recommends FDL APIs. FDL short links will automatically detect the user's platform and send the user to either the web or your app, as appropriate.

If you are already calling URL Shortener APIs to manage goo.gl short links, you can continue to use them for a period of one year, until March 30, 2019, when they will discontinue the APIs. For developers looking to migrate to FDL, take a look at the migration guide here.
The Google URL Shortener has been a great tool that tons of people are using. People are also excited about the possibilities of FDL, particularly when it comes to dynamic platform detection and links that survive the app installation process. We look forward to checking out FDL soon!
Alternative URL Shortening Services
There are a number of URL shortening services out there today, so you shouldn't be panicking at all wit this news. It's worth noting, however, that Google itself has recommended either Bit.ly or Ow.ly as an alternative.
Bit.ly is one of the first URL shorteners to be introduced to the modern web and also one of the most popular ones used by millions of people. They offer features such as tracking, stats, and the ability to have vanity URLs that fit one's brand. Ow.ly, is also another popular alternative. It is the official URL shortener of social media management platform HootSuite.
Another popular choice is TinyURL. Pretty Links is a very popular wordpress plugin that does the same job for you if you have a wordpress site. Have a look at my list of URL shorteners here.
URL Shorteners a must for Affiliate Marketers
If you are an affiliate marketer, you know the importance of using URL shorteners in your daily promo links. One of the first things all affiliate marketers are taught is that they should cloak their affiliate links because people hate to click on those long ugly affiliate links filled with odd numbers and characters. You should know that Facebook also does not like their content to be directly  linked to affiliate links. There are tons of link cloakers and URL shorteners that you can use for your affiliate marketing business.
Do you use any URL shortener or link cloaking platform or plugin in your business? Which ones do you use? Which one is your favourite and why? I'm sure our readers would love to hear from you on your product of choice.
August 2018 Update
Have a look at my list of URL shorteners and link cloaking platforms/ plugins in my post on URL Shorteners to use in 2018.