A URL shortener is a simple tool that takes a long URL and turns it into whatever URL you would like it to be.
URL shortening is a technique on the World Wide Web in which a Uniform Resource Locator (URL) may be made substantially shorter and still direct to the required page. This is achieved by using a redirect which links to the web page that has a long URL. It is the translation of a long URL into an abbreviated alternative that redirects to the longer URL.
A URL shortener has many different aliases. A link shortener, a link shrinker, a link compressor, a URL condenser, a vanity URL creator, these are all different names for a URL shortener.
Links can be a little unwieldy sometimes. They can get long, distracting, and when you're tracking them, they can become pretty complex. Fortunately there are really simple tools to save you from all the stress when it comes to keeping track of your links. Plus, they make our tweets, statuses, and other updates look super clean.
A URL shortening tool is normally an online application that converts a regular URL (the web address that starts with https://) into its condensed format. The user only has to copy the full URL of a website and paste it into the URL shortening tool to come up with an abbreviated version that is around 10 to 20 characters long. They also help you keep track of all those links.
Steps
Shortening a URL takes just 3 steps 
Copy the long unwieldy ugly URL from your site/blog/whatever.
Paste it into the URL shortening tool
Poof! Its converted your long URL into a neat and clean looking link!
For these services (and for URL shortening in general), your URL is replaced by a new domain and the permalink is replaced by a string of numbers and/or letters. Most tools allow you to customise the part after the domain name / .  In addition to these shortening tools, some social media platforms also provide a way to shorten long URLs automatically.
Some of the Popular URL Shortnerers
Buffer
Any link shared to Buffer will be shortened automatically once it's added into your update.
Twitter
Twitter also shortens links automatically. There are a couple ways it does this: Twitter uses it's own t.co shortening service on mobile devices. Twitter will sometimes include the full URL, without the https:// part of the link, or will truncate the link after showing the domain and part of the permalink. In any case, whatever link you post to Twitter will only ever take up 22 characters.
Here are some of the more popular link shortening sites that handle URL shortening, and also offer archives with complete analytical review of everything that you have shortened with them.
bit.ly
Bitly has been around since 2008, committed to optimizing links for marketers to enhance customer experience. Bitly Enterprise – branded links, mobile deep linking, omnichannel campaign tracking, audience intelligence – gives the world's leading brands a holistic, unbiased view into an increasingly complex digital landscape, and a powerful way to see, control and own their customer experience across the internet. They are headquartered in New York City, with offices in San Francisco and Denver, and are trusted by leading brands like IBM, eBay, Nike, GE, BuzzFeed and thousands more.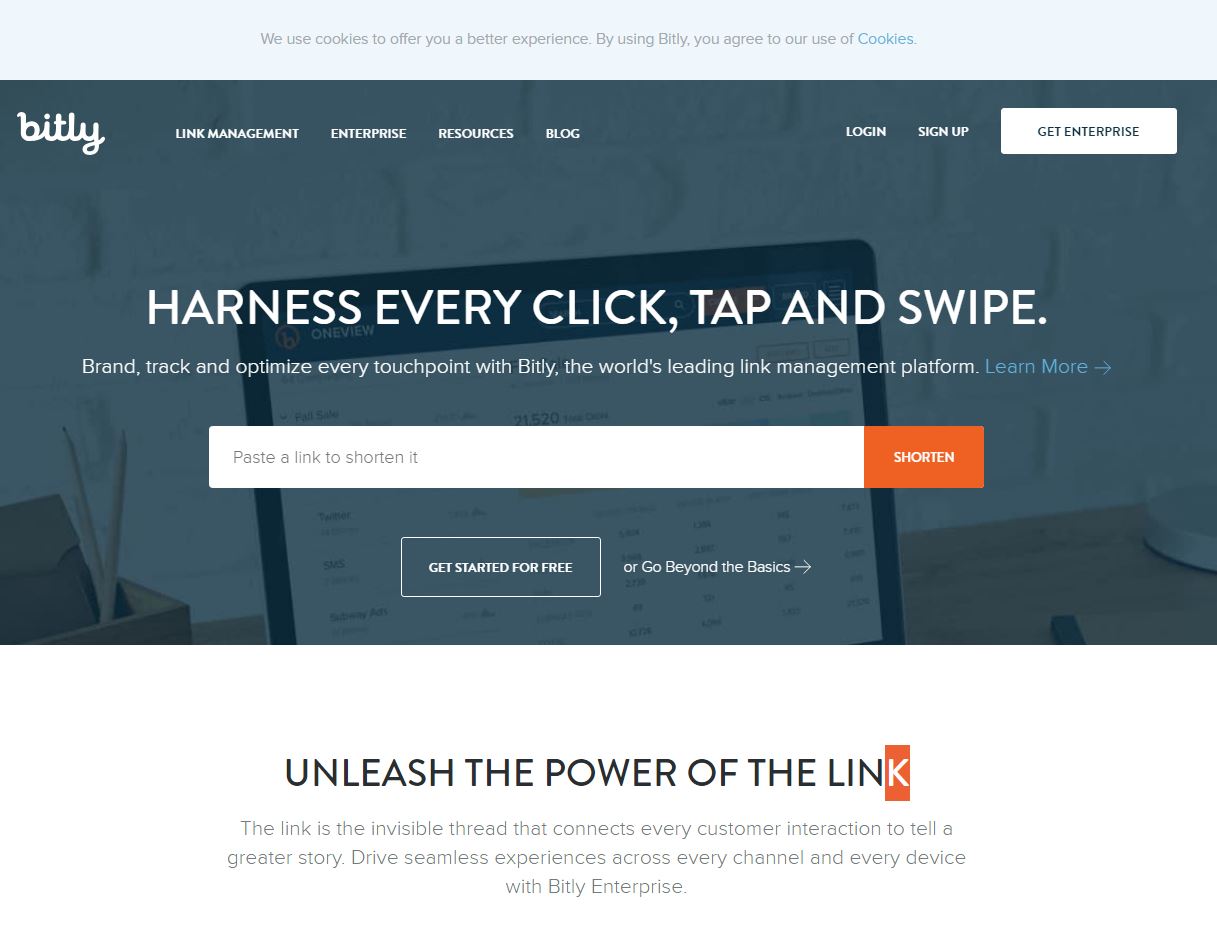 Have a look at the timeline of their journey starting 2008

Source: https://bitly.com/pages/about
---
j.mp
j.mp is an extension for Chrome that makes shortening URL's in Chrome much easier. Simply click the icon and you have a sidebar that makes sharing your newly shortened URL easy.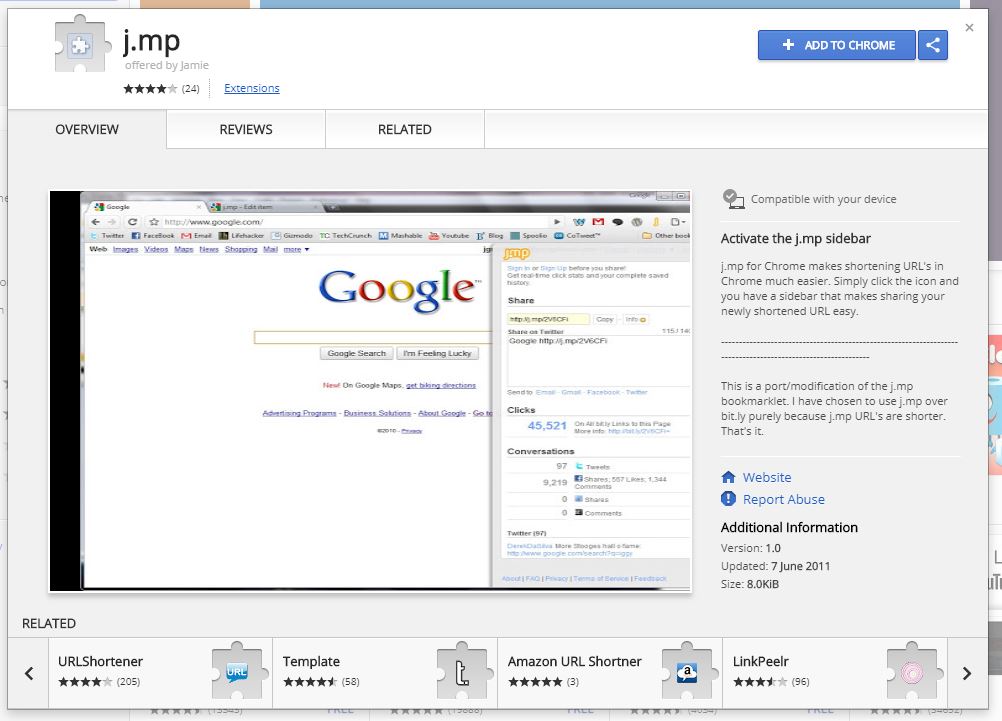 ---
goo.gl
goo.gl is the Google URL shortener . Google has stopped support for goo.gl, replacing it with Firebase Dynamic Links (FDL) from April 13 2018.  Read about my article on how goo.gl has been replaced by FDL here
---
ow.ly
Previously, Ow.ly was available to everyone. However, to increase security for their users, they've moved the Ow.ly link shortener into the Hootsuite dashboard. To access it, sign up for your free Hootsuite account here. The free version of Hootsuite gives you unlimited access to the Ow.ly link shortener.
Hootsuite is a very popular social media management platform that lets you manage all your social accounts in one place, schedule messages in advance, track important conversations, and, of course, use the Ow.ly link shortener for free.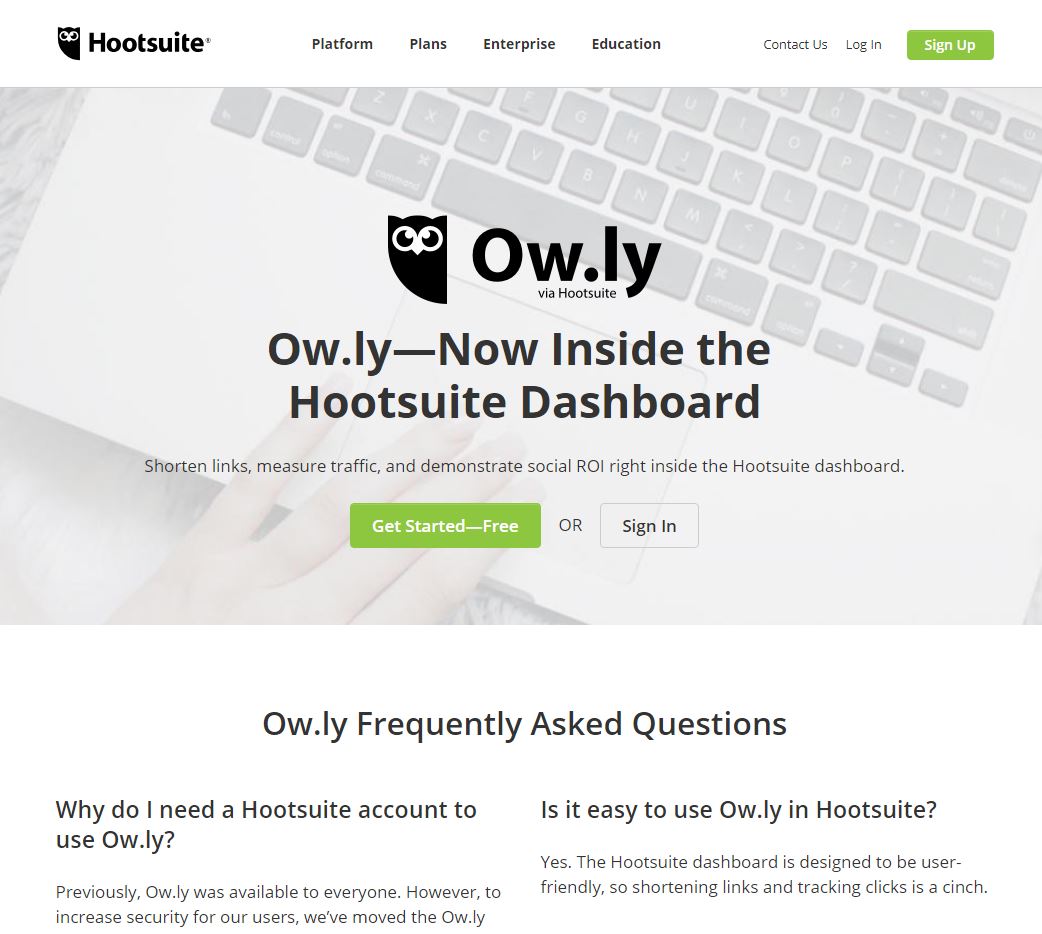 ---
tinyurl.com
TinyURL is a URL shortening web service, which provides short aliases for redirection of long URLs. Kevin Gilbertson, a web developer, launched the service in January 2002 to enable him to post links in newsgroup postings which frequently had long, cumbersome addresses. The TinyURL homepage includes a form which is used to submit a long URL for shortening. TinyURL offers an API which allows applications to automatically create short URLs.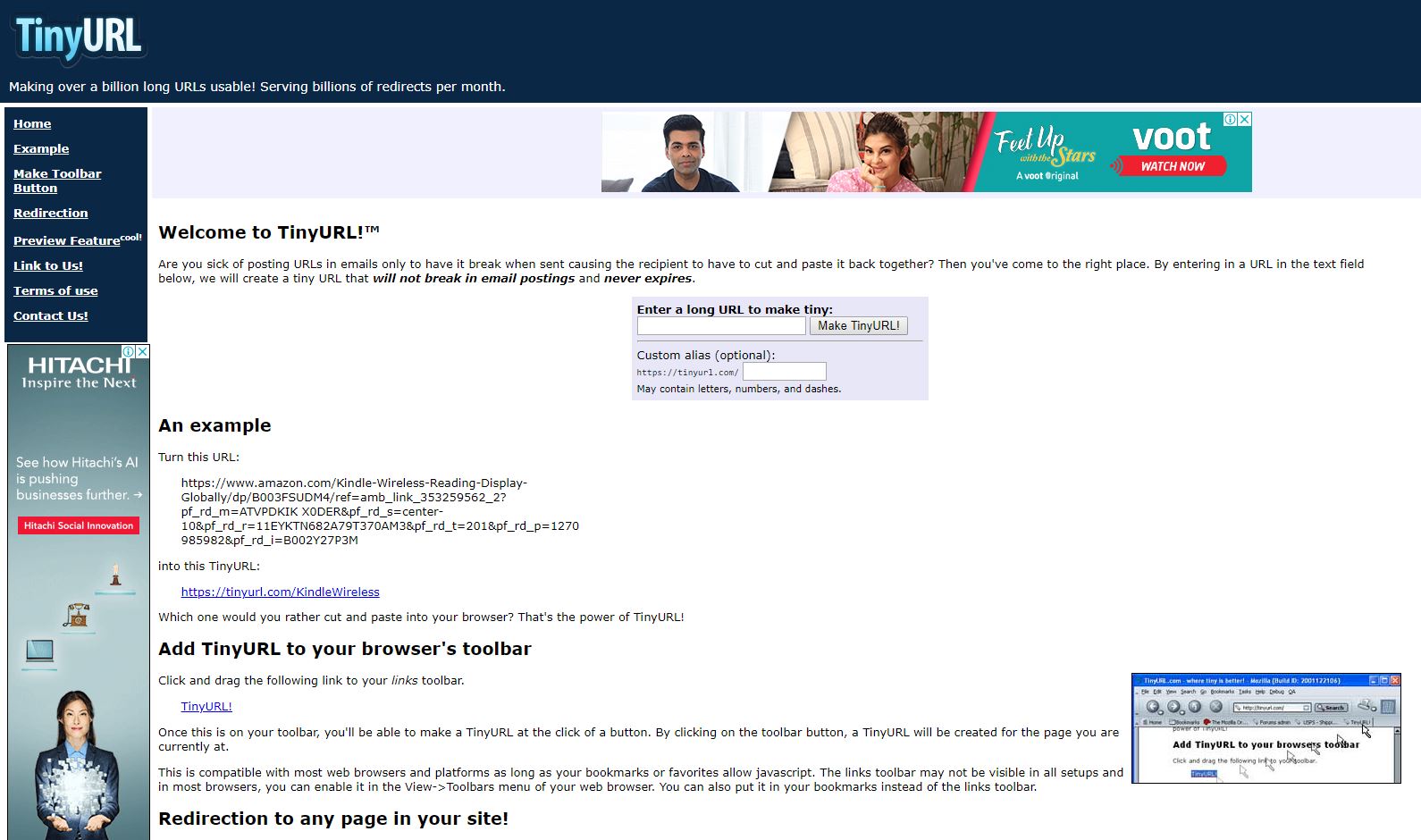 ---
List of URL Shortnerers
Here is a comprehensive list of URL Shorteners. I will add to this list if I find some more
[table id=7 /]
What URL shorteners do you use in your business? Let me know if I have missed out any here