I've always been so fascinated with the Google Doodles. Every time I see a new one, I go and check out what its for and what it means. A Google Doodle is that quirky changed Google logo you suddenly see when you go searching for something in Google that's most likely depicting something that's happening currently, like the Olympics, or it's commemorating the birthday/anniversary of holidays, events, achievements, and people.
Google Doodles are fun. They are spontaneous changes that are made to the Google logo to celebrate holidays, anniversaries and the lives of famous artists, pioneers and scientists. Google Doodles are also used to depict major events at Google, such as the company's own anniversary. Since Google first celebrated the Thanksgiving holiday with a Doodle in 1998, many Doodles for holidays, events, and other celebrations have recurred on an annual basis.
Origin of the Google Doodle
It was today, 20 years ago, that the first Google Doodle was born, making Google a Search Engine with a quirky little difference that sets it apart from the other SEs out there.

The first Google Doodle was designed by Larry Page and Sergey Brin, the founders of Google. On August 20 1998, a week before the two-year-old Google was even an incorporated company, Larry and Sergey were heading to the Burning Man festival in San Francisco. [Harvey, a San Francisco native, was an artist, philanthropist and activist. He was known as "The Man in the Hat". In 1986, he started "Burning Man" with his friend Jerry James. The festival started off small and was a summer solstice evening ritual where they would burn their creation of an effigy of a man.]  To notify customers about their 'out of office' status, Larry and Sergey decided to add the famous Burning Man stick-figure on the Google logo for their email signatures. They placed a stick figure drawing behind the 2nd "o" in the word, Google, and the revised logo was intended as a comical message to Google users that the founders were 'out of office'.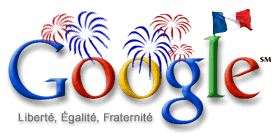 Subsequent Google Doodles were designed by an outside contractor until 2000, when Page and Brin asked webmaster Dennis Hwangan, an intern at the time, to design a logo for Bastille Day, July 14 2000. It was so well received that Dennis was appointed Google's chief doodler and doodles started showing up more and more regularly on the Google homepage.
Since then, creating doodles is now the responsibility of a team of talented illustrators, called doodlers, and engineers who organise and publish the Google Doodles.
In the beginning, the doodles mostly celebrated familiar holidays. Over time, the demand for doodles has risen in the US and internationally.  Nowadays, Doodles highlight a wide array of events, anniversaries, celebrities and famous personalities.
Doodles become sophisticated
Initially, Doodles were neither animated nor hyperlinked—they were simply images with a hover-text describing the subject or expressing a holiday greeting. Doodles increased in both frequency and complexity and on January 4 2010 came the first animated Doodle, honouring Sir Isaac Newton. It showed an apple falling from a tree, showcasing Newton's theory of gravitation. Legend has it that Newton developed his theory of gravity after seeing an apple fall in his orchard. View the original Doodle here
Thereafter, on May 21  2010, on the 30th anniversary of the arcade game Pac-Man, Google unveiled worldwide their first interactive doodle, created in association with Namco, celebrating the Pac-Man game. Anyone who visited Google could play Pac-Man on the logo, which featured the letters of the word "Google" on the Pac-Man maze. The logo also mimicked the sounds the original arcade game made. The "I'm Feeling Lucky" button was replaced with an "Insert Coin" button. Pressing this once enabled you to play the Pac-Man logo. Pressing it once more added a second player, Ms. Pac-Man, enabling two players to play at once, controlled using the W, A, S, D keys, instead of the arrows as used by Player 1. Pressing it for a third time performed an "I'm Feeling Lucky" search. It was then removed on May 23, 2010, initially replacing Pac-Man with the normal logo. Later on that day, Google released a permanent Google Pac-Man site, due to the popular user demand for the playable logo. View the original Doodle here
On October 8, 2010, Google unveiled its first video doodle, a short animation set to the music of "Imagine" to mark John Lennon's 70th birthday. View the original Doodle here
On September 5, 2011, Freddie Mercury's 65th birthday was celebrated  with an animated clip set to "Don't Stop Me Now". View the original Doodle here
Soon Doodles began getting hyperlinks, usually linking to a search results page for the subject of the Doodle.
By 2014, Google had published over 2,000 regional and international Doodles throughout its homepages, often featuring guest artists, musicians, and personalities.
Doodle 4 Google Competitions
Google holds competitions for school students to create their own Google doodles, referred to as "Doodle 4 Google". Winning doodles get to go onto the Doodle 4 Google website, where the general public can vote for the winner, who wins a trip to the Googleplex and the hosting of the winning doodle for 24 hours on the Google website.
The competition originated in the United Kingdom, and has since expanded to the United States and other countries.
India Doodle 4 Google

In 2009 Google announced a Doodle 4 Google competition for India. The winning Doodle 4 Google – India entry titled 'Natural and Cultural Paradise – Assam' was done by Vaidehi Reddy, a student of Army Public School, Pune. It was displayed on the Google India homepage on November 14, the birthday of India's first Prime Minister Jawaharlal Nehru, which is celebrated as Children's Day in India.  The competition drew over 1 million entries from more than 1,700 schools across 50 cities in India. Google had shortlisted 12 Doodle 4 Google – India doodles that were put up for online voting. The winner of the Doodle 4 Google – India contest however, was chosen by Google's National Jury that included political cartoonist Ajit Ninan, Art Director Children's Publishing at ACK Media Savio Mascarenhas, and Google Doodle team lead Ryan Gerick. You can check out all the Doodle 4 Google – India finalists' doodles here.
I'm going to update this post soon with some of my favourite Google Doodles. Do you have a favourite that you'd like me to showcase too? Do let me know and I will add it here with credit to you.