I remember AltaVista, AskJeeves and AlltheWeb as some of the first search engines I ever used. From that you can guess my age!!
I was born in an age where there were no computers no mobile phones and no internet. TV came to our home when I was probably in the 6th or 7th grade. It was the black and white TV at first.
Computers were big huge boxes for the CPU and big box for the monitor. When I upgraded the computer to a 2 GB one, I was like wow, now I have all the space for everything I need. Lol!
Things were pretty basic back then. The internet has galloped by leaps and bounds since then and now everyday there is something new to explore and learn.
What is a Search Engine
According to Wikipedia, the God of all definitions today,
A web search engine or Internet search engine is a software system that is designed to carry out web search (Internet search), which means to search the World Wide Web in a systematic way for particular information specified in a textual web search query. The search results are generally presented in a line of results, often referred to as search engine results pages (SERPs). The information may be a mix of links to web pages, images, videos, infographics, articles, research papers, and other types of files. Some search engines also mine data available in databases or open directories. Unlike web directories, which are maintained only by human editors, search engines also maintain real-time information by running an algorithm on a web crawler. Internet content that is not capable of being searched by a web search engine is generally described as the deep web.
Gerard Salton was the father of modern search technology. His teams at Harvard and Cornell developed the SMART informational retrieval system.
Prior to 1990, the only pre-web domain search engine was WHOis, a query and response protocol from 1982 that is even today used extensively to know who the registered user of a domain is.
The very first search engine, called Archie (originally intended to be "archives," but shortened to Archie), was born in September 1990. It was created by computer science students,  Alan Emtage, Bill Heelan and J. Peter Deutsch, from McGill University, Montreal. It worked by combining a script-based data gatherer with a regular expression matcher for retrieving file names matching a user query. Basically, Archie was a database of web filenames against which users' queries were matched and search results were procured.
Before 1993, the World Wide Web was completely manually indexed and edited by Tim Berners-Lee and hosted on the CERN webservers.
1993 – 2000
The world wide web's first primitive search engine, W3Catalog, was unveiled on September 2, 1993. In June 1993 Matthew Gray had already introduced the web's first robot, created to count active web servers, called the World Wide Web Wanderer. But it caused some problems of system lag because it was accessing the same pages hundreds of times a day. In 1993, thtree more search engines were founded, Aliweb,  JumpStation and WWW Worm, of which the latter two are inactive today.
In 1994, Berners-Lee founded the World Wide Web Consortium (W3C) at the Massachusetts Institute of Technology. He also created the Virtual Library, the oldest catalogue of the web.
By the turn of the century there were 34 search engines and directories that had been founded, many of which died off or redirected to more popular search engines.
Check out the complete list of all Search Engines known and used to date here.
Top 5 Search Engines today
Today Google has become synonymous to searching on the net. It is like Xerox, a brand that became a verb. Today, for practically anything we want to know about, we don't search online, we Google it. Many of the younger generation probably don't even know that there is life beyond Google.
Although Google has definitely got the lion's share of the Search Engine market, there are many other robust search engines that people do use.
Worldwide desktop market share of leading search engines from January 2010 to July 2019
Source : https://www.statista.com/
With a market share of over 90%, Google is the undisputed king of web search.
Source : https://gs.statcounter.com/
Google was officially launched in September 1998 by Larry Page and Sergey Brin. In 1996, while they were PhD students at Stanford University, they used the University's website domains google.stanford.edu and z.stanford.edu to create an algorithm known as "BackRub". The search engine proved successful and grew quickly. It had its IPO in  2004 and went on to become one of the largest media companies in the world. Google has many associate companies like Google News (launched in 2002), Gmail (2004), Google Maps (2005), Google Chrome (2008). In 2015, Google became the main subsidiary of the holding company Alphabet Inc.
Bing is owned and operated by Microsoft.
Bing, a replacement for Live Search, was launched on May 28, 2009. It  provides a variety of search services, including web, video, image and map search products.
Bing also places greater emphasis on the quantity of backlinks rather than quality. Here's what Bing Webmaster guidelines has to say "Links pointing to your site help Bing discover new pages on your site. Traditionally, it is also regarded as a signal of popularity. The site linking to your content is essentially telling Bing that they trust your content."
With Bing being the 2nd most popular search engine, and one with such a huge gap between the number one, marketers forget to optimise their web sites for Bing.
Don't forget to register your web site for Bing's webmaster tools, if you haven't done it already. You will be surprised how much it can help. You have to simply sign up for a free Bing webmaster account and add your website.
Yahoo! Search is owned by Yahoo and headquartered in California. It's interface is very similar to Google. The roots of Search date back to Yahoo! Directory, which was launched in 1994 by Jerry Yang and David Filo, then students at Stanford University. In 1995, they introduced a search engine function, called Yahoo! Search, that allowed users to search Yahoo! Directory. It was the first popular search engine on the Web despite not being a true Web crawler search engine.
Originally, none of the actual web crawling and data housing was done by Yahoo! itself. In 2001, the searchable index was powered by Inktomi and later was powered by Google until 2004, when Yahoo! Search became independent.
On July 29, 2009, Microsoft and Yahoo! announced a deal in which Bing would henceforth power Yahoo! Search.
In China Google has only about 10% of the search engine market share. The undisputed king of the search engine market in China is Baidu with a market share of over 82%.   China has more than 721 million active Internet users, which accounts for a quarter of the total number of Internet users in the world and that is mainly because of its population.
Incorporated in January 2000 by Robin Li and Eric Xu, Baidu is a Chinese multinational technology company specializing in internet-related services and products and artificial intelligence (AI). It is one of the largest AI and internet companies in the world. The Baidu search engine has its origins in RankDex, an earlier search engine developed by Robin Li in 1996, before he founded Baidu in 2000. Baidu is currently the fourth largest website in the Alexa Internet rankings.
Yandex Search is the core product of Russian corporation Yandex.  Yandex is a Russian multinational corporation, with over 70 services, specializing in Internet-related products and services, including transportation, search and information services, eCommerce, navigation, mobile applications, and online advertising.
Yandex is the largest technology company in Russia and the largest search engine on the internet in Russian, with a market share of over 52%.
The Yandex.ru home page is the 4th most popular website in Russia. It also has the largest market share of any search engine in the Commonwealth of Independent States and is the 5th largest search engine worldwide after Google, Bing, Yahoo! Search and Baidu.
Others
Besides these there are plenty of other popular Search Engines in the workd. Here are just a few of them
| | | |
| --- | --- | --- |
| Ask.com | AOL | Wolfram Alpha |
| | | |
| | | |
| DuckDuckGo | Naver | Seznam |
| | | |
| | | |
| Ecosia | Internet Archive | Dogpile |
| | | |
| | | |
| Gibiru | Startpage (Ixquick) | Excite |
| | | |
| | | |
| Lycos | YouTube – largest video SE | Pinterest – best image SE |
| | | |
| | | |
What do you use? Honestly, I use only Google. But I have started seeing the advantages of Bing lately, especially for paid ads. But that's a topic for another day.
Let me know if I have left out any other important Search Engine that you know about.
Summary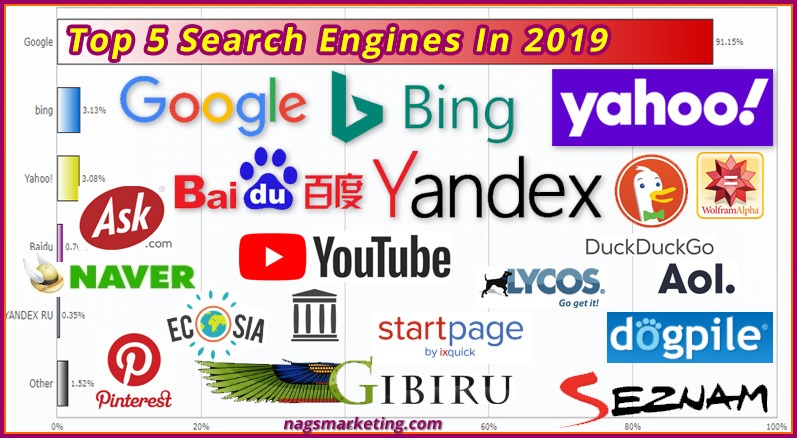 Article Name
Top 5 Search Engines In 2019
Description
Today Google has become synonymous to searching on the net. It is like Xerox, a brand that became a verb. Today, for practically anything we want to know about, we don't search online, we Google it. Many of the younger generation probably don't even know that there is life beyond Google.
Author
Publisher Name
Publisher Logo